Beaded spiders are great fun to make for Halloween. You can also make an easy spider web and hang it as an ornament.
Making a Beaded Spider
The spiders are made by wiring big beads together to make the head and body.  You can then create wire legs to wrap around the body and bead them.
We made these colourful spiders with large beads for the head and body – 6-8mm beads are a good size for the head with a body of 12mm or more.  Small 10/0 or 8/0 seed beads are ideal for the legs with 5mm bugle beads.  You can make the legs with just seed beads.  However, it's worth trying bugle beads because it gives a great jointed effect.  Once you have mastered the basic method just change the size and colour of the beads to create your own horde of Halloween spiders.  A large feature bead for the body like the 18mm metal bead on the silver spider below add impact.
You can download our free pattern here with full instructions Beaded spider and spider web pattern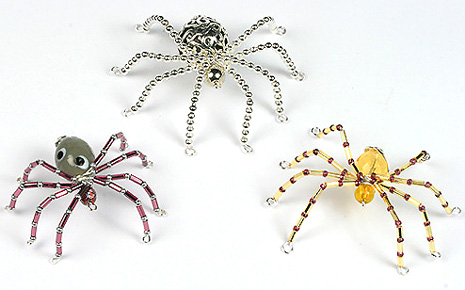 These neon spiders just use large neon seed beads and are great for children.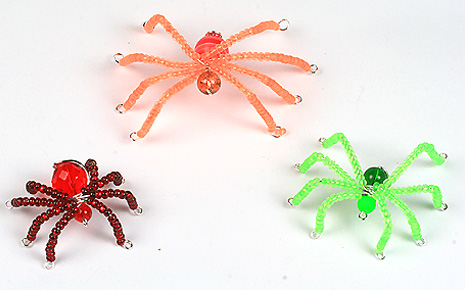 Making a Web for your Spider
When you have made your spider, you can also make a spider web for it to lurk in!  We made ours using a 4.5 inch snowflake ornament wire form and then wrapped wire between the spokes.  We added some small silver beads on the spokes for added interest.  You can make your own variation by threading some small seed beads as you make the threads of the web to create a sparkling effect.
Finally, just add a small length of chain to display your creation to full effect!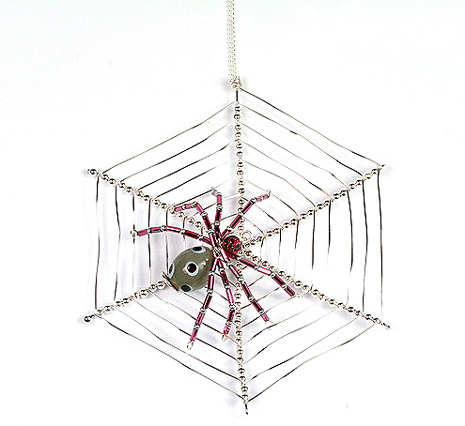 ---