CzechMates multi-hole beads will add depth and intricacy to your beadwork and enable you to create striking multi-dimensional designs.  Here is a brief overview of the 9 beads and some design ideas showing you can use them.
The 9 multi-hole beads currently in the CzechMates Dimensional Beading System:
2-hole CzechMates tile beads
2 hole CzechMates brick beads
2 hole CzechMates bar beads
2-hole CzechMates crescent beads
2 CzechMates triangle beads
2-hole CzechMates daggers
2-hole CzechMates lentil  beads
4-hole CzechMates quadralentils
4-hole CzechMates quadratiles
A great range of free patterns from the Starman TrendSetters is available on our website when you order CzechMates and other beads
The Starman TrendSetters patterns have clear step-by-step instructions and good illustrations.  Most of the designs below are available.
Free CzechMates patterns from Starman Trendsetters which are ideal for introducing you to these beads  These are available with any order – please see our website for full details.
Free CzechMates patterns from Starman TrendSetters for more experienced beaders  These are available when you order CzechMates – please see our website for full details.
We also have some inspirational designs in our image galleries both from the Starman TrendSetters and our own designers.
They can be used to create very simple but pleasing designs or to create complex 3-dimensional designs.
2-hole tile bead
The 6mm tiles are one of the easiest CzechMates to use.
The lattice bracelet design below combines tile beads with superduos and fire-polished beads to create this effect.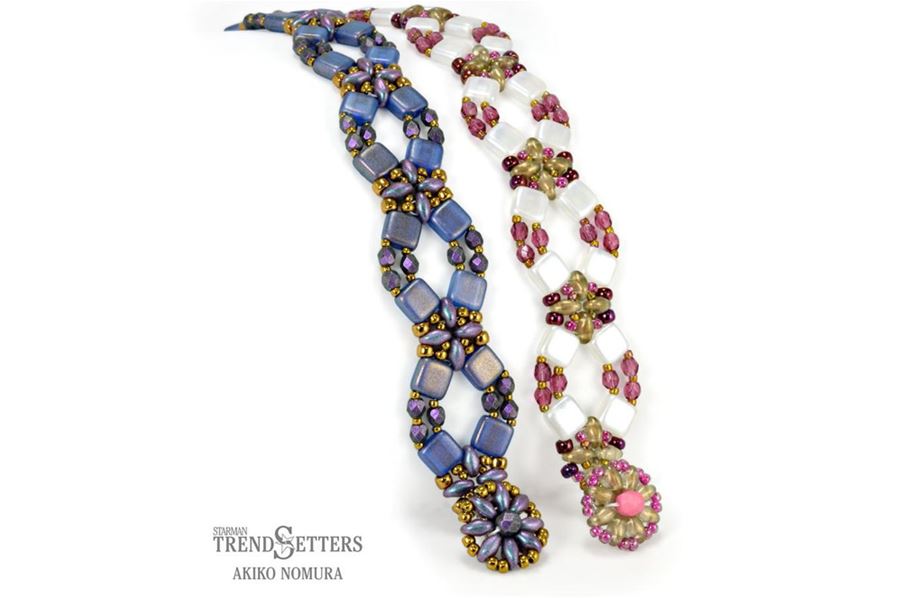 Flower Lattice Bracelet by Akiko Nomura
2-hole brick bead
Th2 3x6mm bricks are another good option to start with.  There are lots of good colours to choose from to give your beadwork impact.  They are easy to combine with other CzechMates as they have the same hole spacing.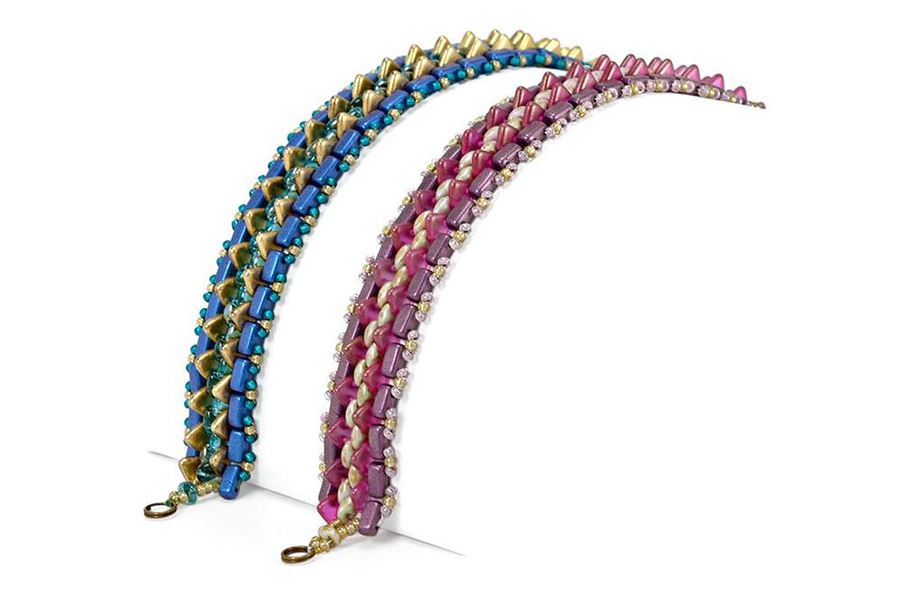 The bricks, which are exactly half the size of the tiles, can easily be combined with the tile beads.
You can also try combining the two-hole tiles with the 4-hole quadratiles to create designs such as this bangle.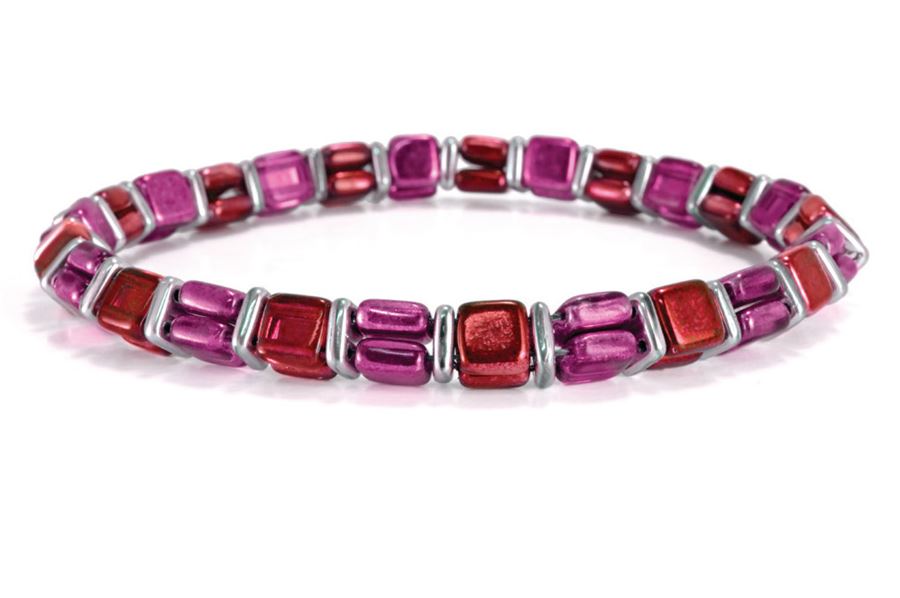 2-hole bars
These 6x3x3mm bars are handy for small pieces such as earrings.
They are also very useful for linking as the tri-star necklace shows.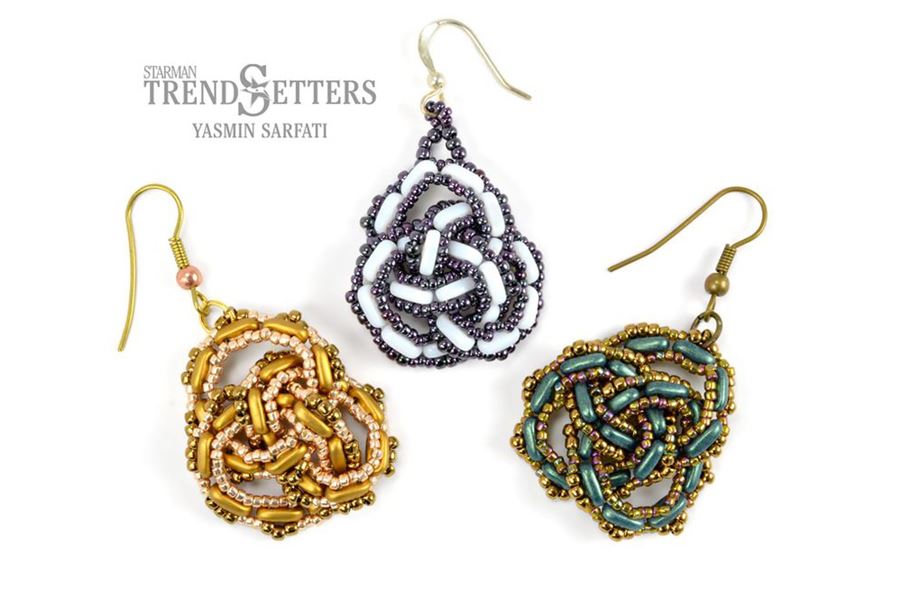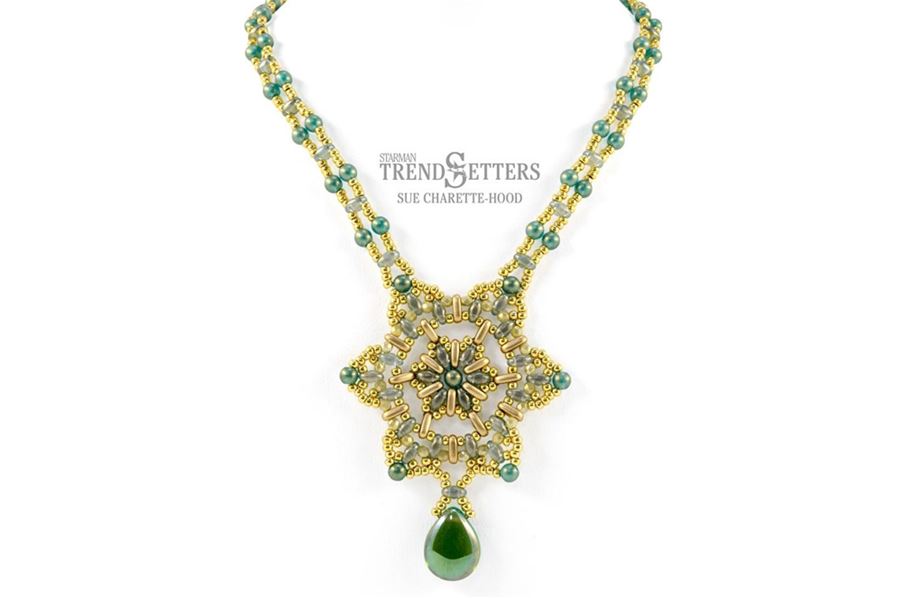 2-hole lentils
These 6mm lentil beads are also easy to use.  The bracelet pattern below is a particularly popular design by Starman TrendSetters.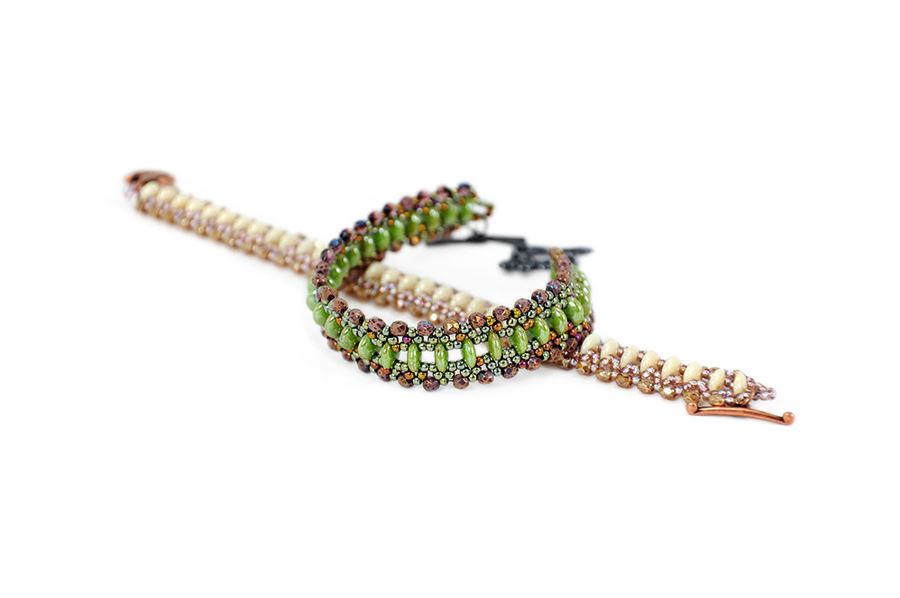 2-hole triangles
The easy design below shows how the 6mm triangles can be used for edging and to create a star or petal effect.
In the Zipper bracelet design below they are alternated to create a more complex designs in this beautiful bangle.

2-hole daggers
These 16x5mm daggers are great for adding interest to a necklace and also make very striking drops on earrings.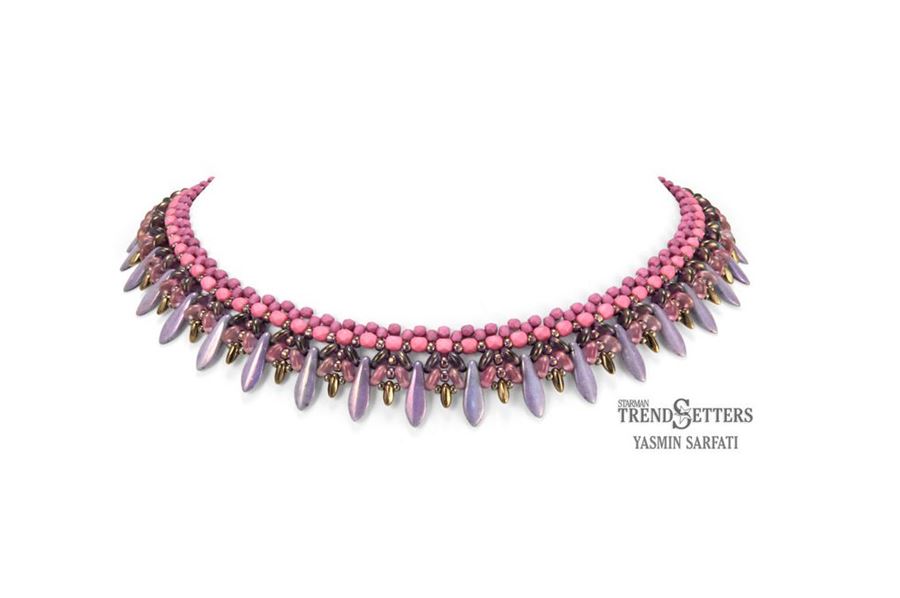 2-hole 6x3x2mm bar beads
The bar beads are a slim-line option that is good for designs such as these curved Celtic earrings by Starman TrendSetter and these …….
4-hole quadratiles
These are another bead that is good for adding an extra dimension to your beadwork and you can create some lovely designs with these.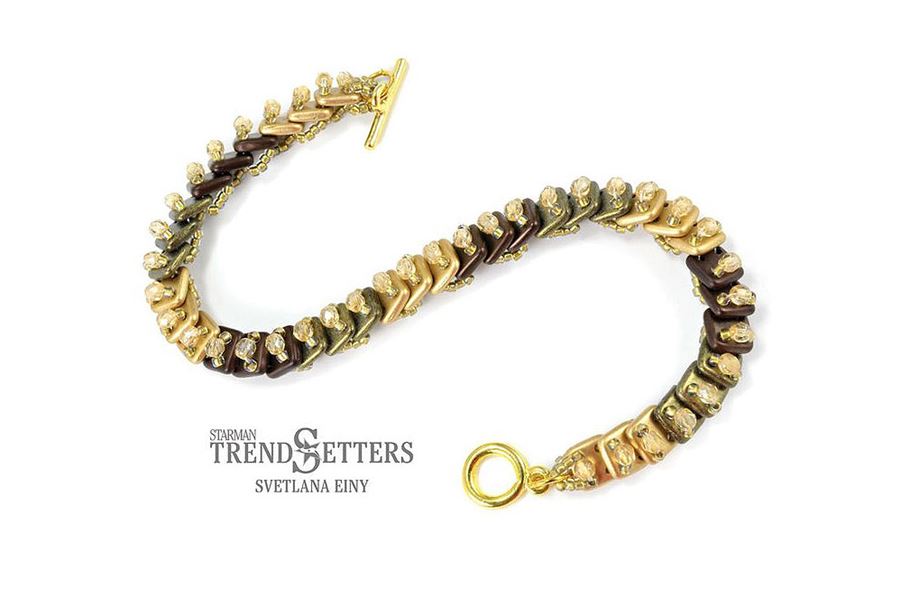 Last, but definitely not least, are the very popular 2-hole 3x10mm crescent beads.
These have great design potential as the examples below show.
They are also very good for edging round rivolis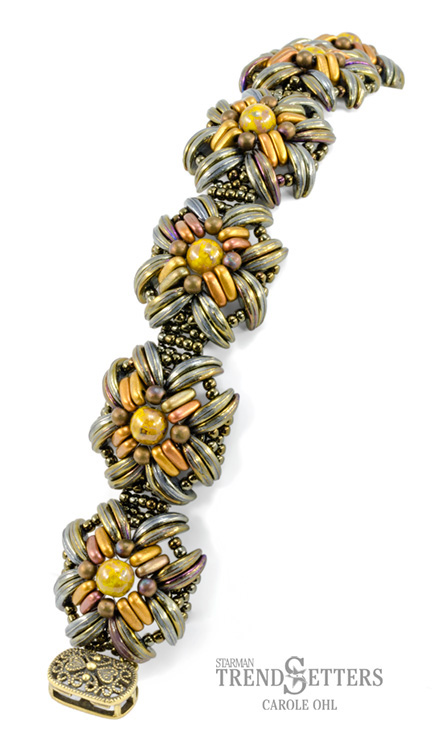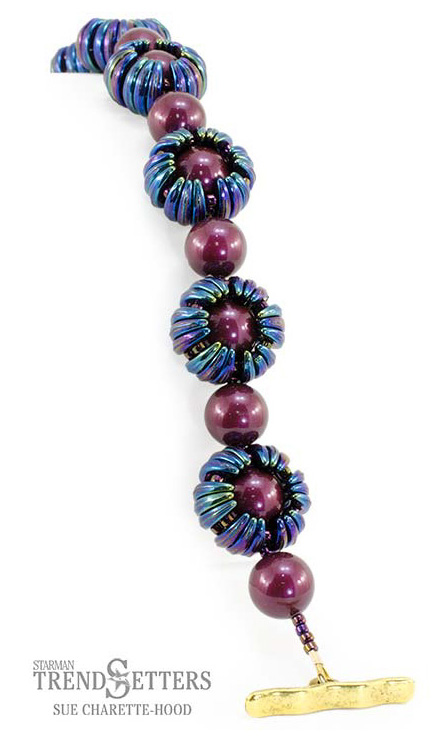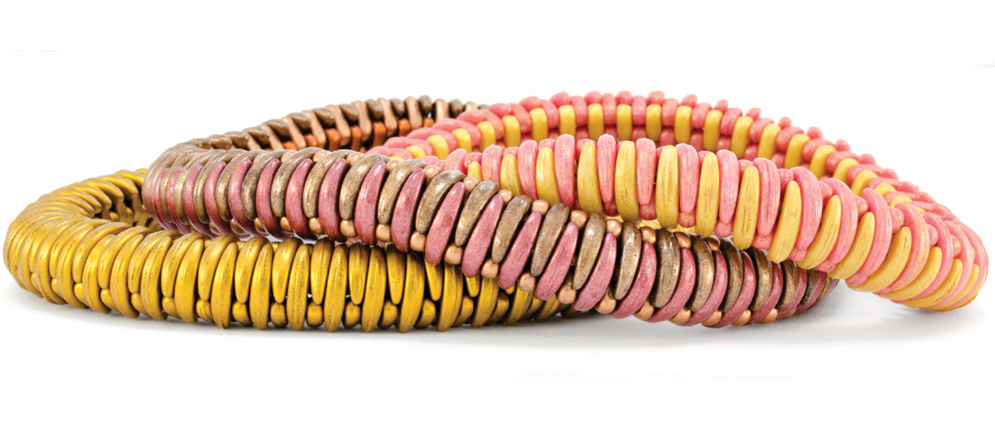 In addition to the CzechMates gallery, we also have an image gallery of our own designs including those shown below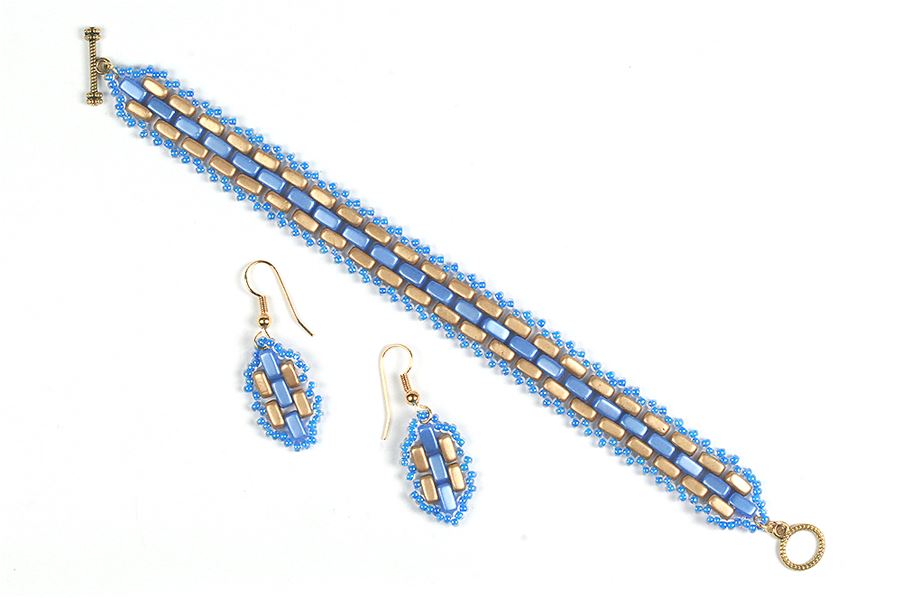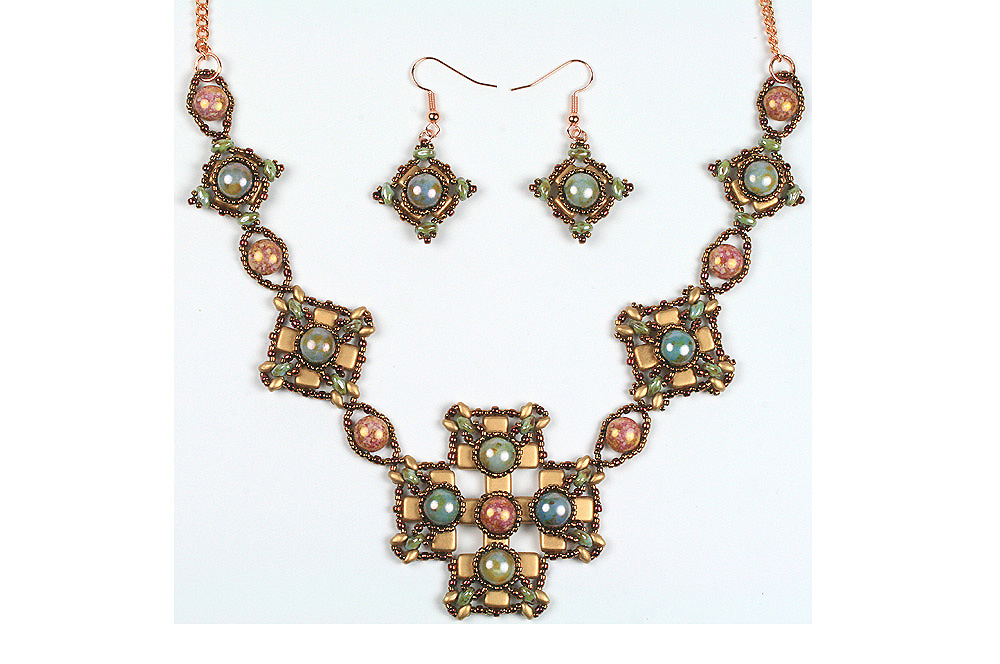 Candy Tile and Superduo Necklace and Earrings
---