The latest Swarovski Innovations, Light and Shadow, includes some absolutely gorgeous new beads, pendants and stones.
Here are some of the highlights of the new colours and shapes now available in this fabulous collection including the stunning growing crystal pendants.
Swarovski Innovations – Light and Shadow
Swarovski's latest collection is influenced by the increasingly polarized views of our society and whether we see the future as an opportunity or a challenge, a time for creativity and celebration or stillness.  Their latest concepts reflect on the fact that where there is light there is shadow.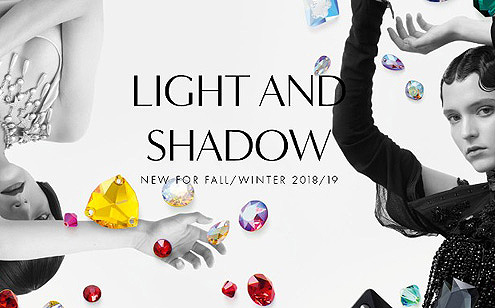 View our Swarovski Crystal Collection here
New Swarovski Scarlet Colour
This absolutely gorgeous colour is a real winner and is right on vogue with the current trend for deep reds. The scarlet shade is rich and opulent and available in many of the beads, pendant and stones across the range.  This includes the very popular bicones, flatbacks and rivolis.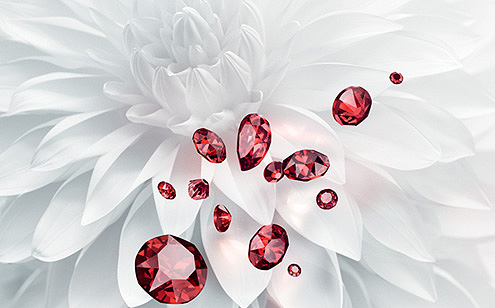 Extended Shimmer Effect
Through its Shimmer effect, Swarovski sought to create maximum elegance and vibrancy.  The special light-refracting properties cast multiple shades of a single colour for dazzling eye-catching combinations.
The shimmer effect has now been expanded to include some of the most popular beads, pendants and stones.  This includes bicones, heart pendants and square fancy stones.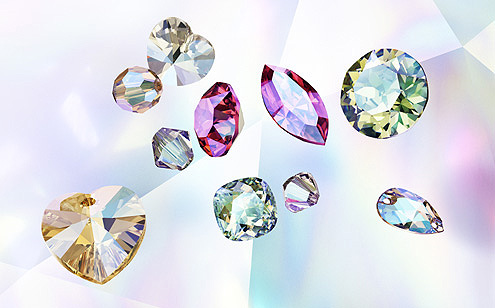 New Growing Crystal Pendants by Iris van Herpen
Swarovski has teamed up with visionary experimental designer Iris van Harpen.
Inspired by nature, she has created these bold and stunning growing crystal pendants which express the often hidden delights within and imperfections which can create great beauty.  The growing crystal concept seeks to capture the ephemeral beauty of the moment and the beauty to come.
These pendants are striking and original but with a classic shape.  They are ideal if you are looking for a gift.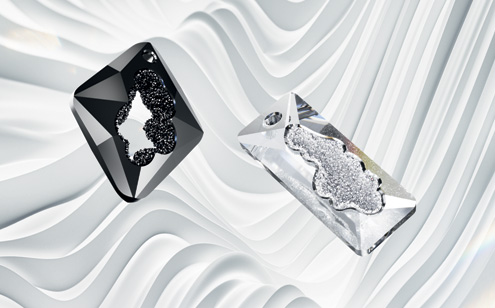 New Jewel Flatbacks and Sew-on Stones
Swarovski is always seeking to provide cutting edge application methods and their new Jewel Cut collection lends the glamour of classic-cut gemstones to decorate embellishments for textiles and fabrics.  They're available in both hotfix and no hotfix flatbacks.
The new Trilliant sew-on stones are inspired by classic gemstones and come in jewel-like colourst to give opulence and brilliance. You can use these to create to statement-making designs for enriching embroideries.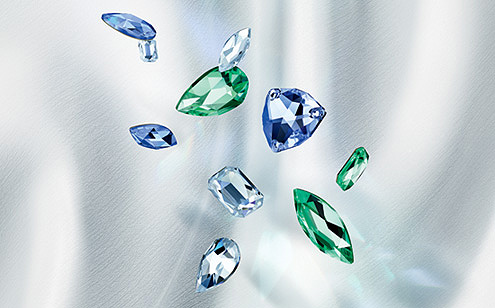 New Fancy Stones and Pearls
The latest collection includes some striking fancy stones including the dramatic eye fancy stone shown top left.  For this, Swarovski have also provided settings with loops as well as the standard settings with the sew-through holes.  This makes it easy for you  to make your own eye pendant or bracelet.
We love the pretty starbloom fancy stone.  The settings for this include one with a loop so you can easily make a gorgeous pendant.
Also new is the slim trilliant fancy stone, shown above in scarlet with the standard setting.
Swarovski have also brought out a cute little metal bow cap which you can attach to 8 or 10mm pearls.  It is shown here with the new crystal velvet brown pearl.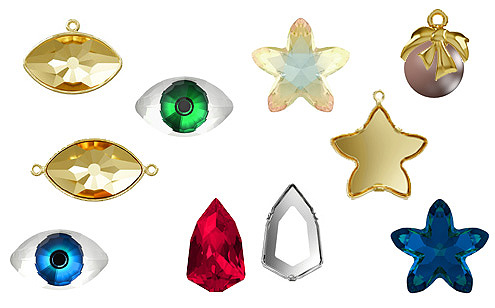 ---