Using Swarovski Flatbacks, Cabochons and Fancy Stones to make Jewellery
It really is easy to make jewellery with Swarovski stones and here are some ideas for a quick make for yourself or to give as a gift.  Swarovski Flatbacks, Cabochons and Fancy Stones can all be used to make pretty jewellery earrings, bracelets and pendants.
Making Jewellery with Swarovski Flatback Stones
The Swarovski stones used here are flatbacks no hotfix.  All you need to do is apply a glue suitable for metal findings and then place the stone in position and leave to dry. We used E6000 which is strong, easy to use and dries quickly.
The Swarovski chessboard flatbacks are popular example.  You can just glue them to post stud earrings findings or, as here, use them to make a dashing pair of cufflinks for a special occasion.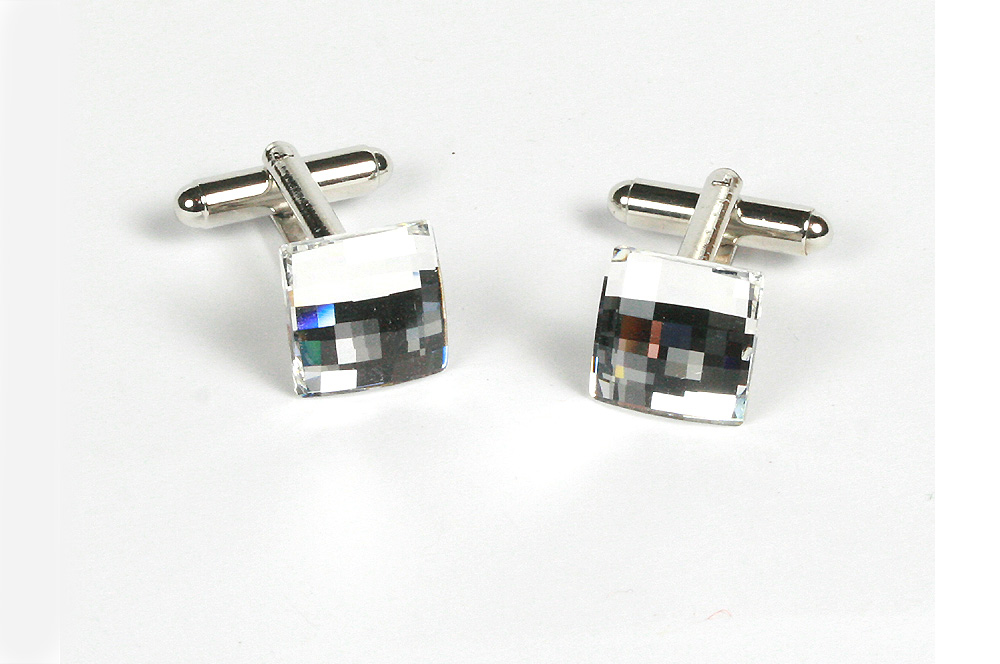 Another popular idea is using the Swarovski Skull Flatbacks on a ring blank.
View Swarovski Flatbacks no hotfix
Making Jewellery with Swarovski Framed Flatbacks and Cabochons
This pretty little Swarovski cabochons make an elegant pair of stud earrings. To make the earrings, place the cabochon upside down, apply a thin film of glue to the post stud earrings finding and then place the finding centrally onto the back of the cabochon and leave until dry.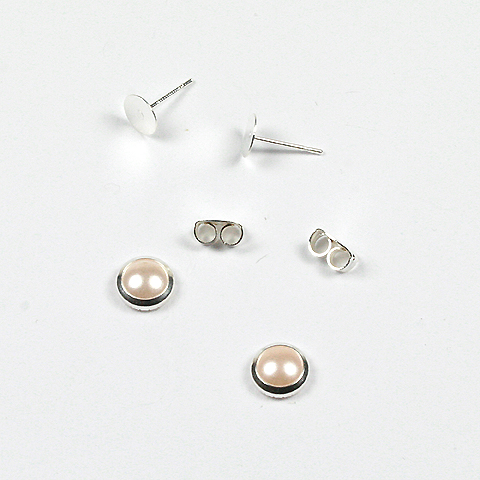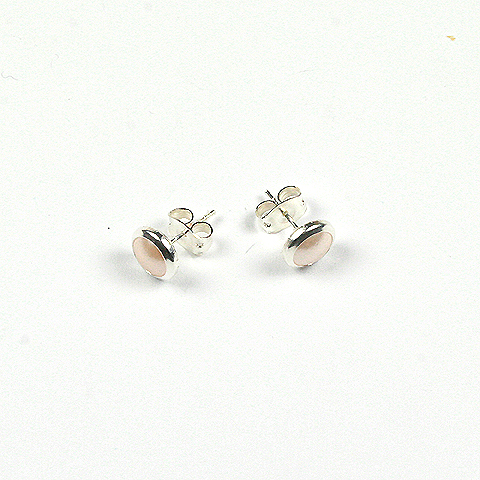 You can also do the same using framed flatbacks.
View Swarovski Framed Flatbacks and Swarovski Framed Cabochons
Making Swarovski Jewellery Using Swarovski Fancy Stones and Settings
You can also make some stunning jewellery using fancy stones.  A fancy stone is a stone with a pointed back which increases the depth and intensity of the stone's sparkle.
Try using the Swarovski Fancy Eye Stone to make a striking bracelet or earring.  Just apply a thin film of glue inside the setting and place the fancy eye stone inside it to hold it firmly in place.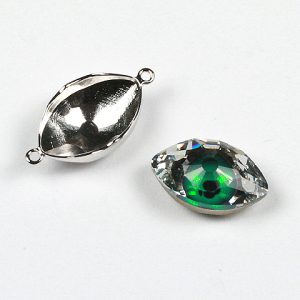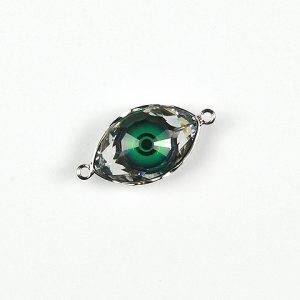 The settings for the Fancy Eye come with with 2 loops is ideal for making a chunky chain or cord bracelet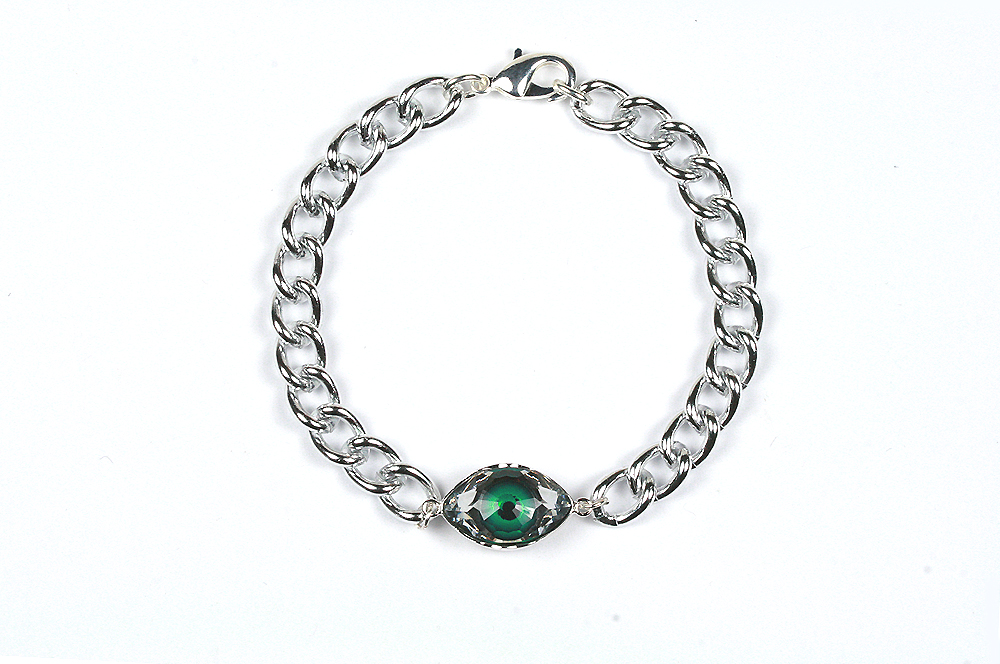 You can also use a setting with 1 loop at the top to make a pendant using the Fancy Eye stone.
Swarovski Settings also include some lovely settings with prongs to hold stones
A particularly attractive stone is the Starbloom Fancy stone.  The settings for the larger sizes include a loop so they are perfect for quickly making jewellery.
To make the starbloom earrings we used 13mm stones.  Just place them in the setting and then just gently fold the prongs over the stone, pressing them into position if necessary with the tip of a pair of pliers.  Do the same with the 18mm starbloom stone and setting to make a beautiful pendant.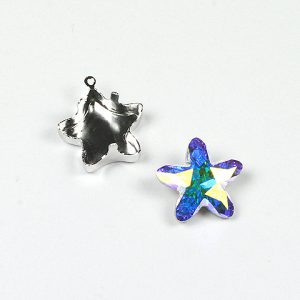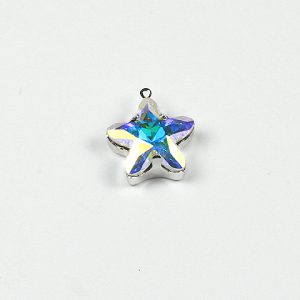 We used 13mm starbloom stones and settings to make the earrings and an 18mm starbloom stone and setting to make the pendant below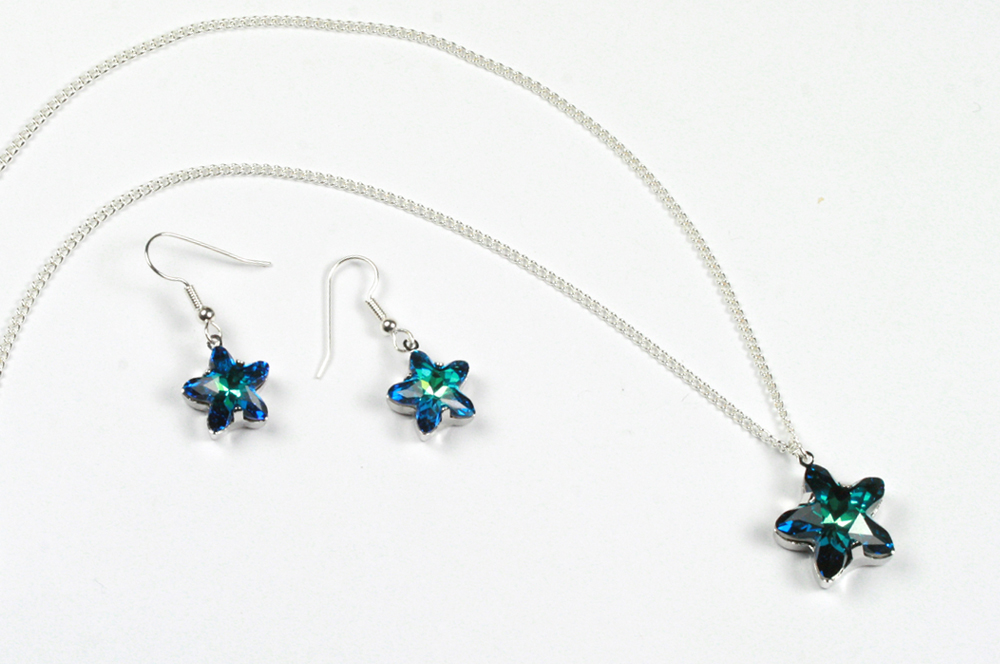 Jewellery making with Swarovski stones really is quick and easy and we hope you enjoyed these ideas.
---