Preciosa Seed Beads from Czech Republic
The Preciosa seed beads are one of the most widely known brands available due to their popular colour range and great value.  Here we briefly look at their history, how the seed beads are produced and some of the most popular colours and effects.  Although there are many different shapes of seed beads, by far and away the best-sellers are the traditional round seed beads or rocailles.
Preciosa Seed Beads – A Brief History
These Preciosa seed beads come from the Jablonec nad Nisou area of the Czech Republic.  The first glass works in the Jablonec area date back to sixteenth century.  Techniques originally developed in Italy in were improved and a huge range of high quality products were manufactured.  Production therefore boomed and by the middle of the nineteenth century the area was an international exporter of glass and beads.  Originally this area had dozens of independent small producers working in glass and costume jewellery production businesses. Then the state-owned Bead and Glass Divisions of the Jablonex Groups organized the marketing and exporting for the industry for many years which therefore made it much more efficient.  Since 2009 Preciosa has taken over many of their responsibilities when Jablonex was disbanded and continues the centuries long tradition of glass making and bead export.  The Preciosa seed beads are still cut from rods of coloured glass which they manufacture themselves.
Seed Bead Manufacture from Glass Rods
The Preciosa seed beads are made by the traditional Czech method.  Preciosa manufacture rods of coloured glass and these long thin glass tubes are then cut into small pieces.  These pieces are then tumbled to smooth and round the edges.  This technique therefore produces the classic Czech seed bead donut shape.  The process also means that the seed beads may be slightly irregular.
Today, due to the scale and efficiency of their manufacturing processes, Preciosa is also the major producer of glass rods for many other bead-manufacturing companies in Czech Republic.
Preciosa Seed Bead Sizes
The size 10/0 are definitely the most popular sizes and they are widely used for bead-weaving and embroidery.
Size 8/0 seed beads are larger and are the most widely used for knitting.
You can also use the larger 8/0 and 6/0 sizes for techniques such as kumihimo and crochet.
You can view the Seed Bead Chart here with size and weight information.
Preciosa Seed Bead Colour Range
Preciosa produces a large range of colours and effects of which these are some of the most popular.  You can view our Preciosa seed bead range here
Opaque
These are the single most popular beads and come in a large selection of key colours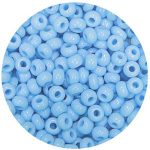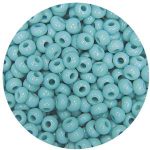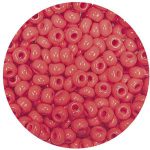 Transparent
Many of the key colours are also available in transparent glass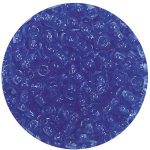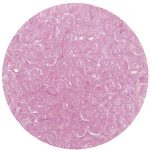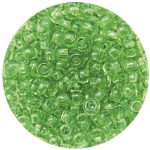 Silver Lined
The silver-lined beads are also extremely popular due to the shine and reflection.  Here, a transparent glass bead has a silver lining.  The silver-lined beads often have a square hole which because of the angles produces more reflection that a round hole.  You may often seed silver lined beads just be abbreviated to S/L.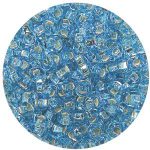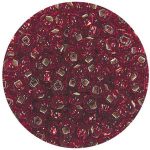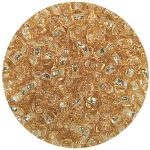 Inside Colour Lined
Transparent glass, normally crystal, has a coloured layer inside the bead hole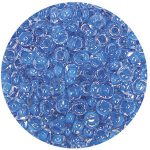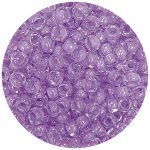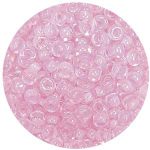 Iris
These seed beads are opaque with an iridescent finish.  The colours of the iris effect therefore mean that they are a very versatile and popular choice.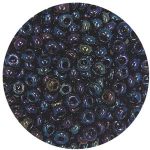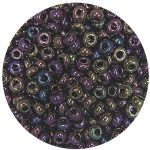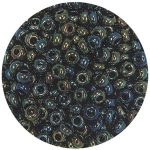 Metallic
Another very popular range are these metal-like colours.  Again, this is because they can easily mix and match with most other beads.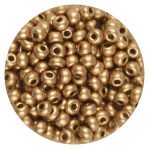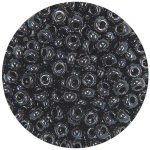 AB
The AB coating is one of the most popular effects and may be on transparent or opaque glass.  It is named after the beautiful colours of the Aurora Borealis. The examples below are on coloured transparent glass.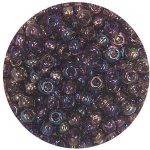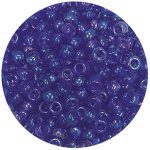 Pearlized/Ceylon
Ceylon beads may also be called opal lustre beads.  The lustrous shiny finishes mean that the white and cream Ceylon seed beads are therefore very popular for bridal jewellery.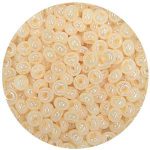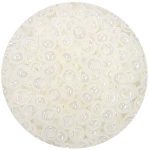 ---