Charm Bracelets
Charm bracelets are always popular and, if they're new to you, we have some hints and tips to help you put together a beautiful bracelet in next to no time.  Just choose some favourite beads and charms and follow these easy steps to creating a lovely bracelet. You may also like to add a pretty pair of earrings.
How to make the Classic Charm Bracelet
Our classic charm bracelet is made using chain which makes it very easy just to add the dangles and charms to the links.  If you bear in mind some basic techniques in mind and plan how you will put the bracelet together it will help create a balanced and pleasing result.
Choose some pretty beads in a favourite colour,  picking a few different sizes and shapes to give some variety.  If you like, you can add some bead caps to decorate one or both ends of some of the beads and add extra interest. Click here to see glass beads
Then select the charms – a variety of shapes and sizes can work well but just make sure that the overall effect will look balanced Click here to view charms
Plan your bracelet – lay everything out on a mat so that you can go through each stage methodically
Make the dangles – these may be a single bead on a headpin or a cluster of several beads.  With a single bead, make a loop and attach this to a jump ring. We often make a little cluster of beads and attach them to a single jump ring.  The cluster can then easily be attached to one of the links of the chain
Test out the spacing on a small portion of the chain to make sure you have a good balance of beads and charms.  You can also check how many links to leave between each charm and dangle.
Lay out the dangles and charms in order of assembly.  You can then just attach them to the links of the chain with jump rings.
Add a pretty lobster clasp and jump ring or a toggle clasp to finish it off
Themed Charm Bracelets
Choosing a theme can help you decide which charms to choose and also suggest what would be good colours to go with the theme.
Seaside theme
Charms such as starfish, dolphins and shells are always popular for charm bracelets. We chose transparent glass beads in sand, blue and natural pearl colours to re-enforce the seaside feel.  Simple bead caps on the largest beads add a pretty touch to a plain bead.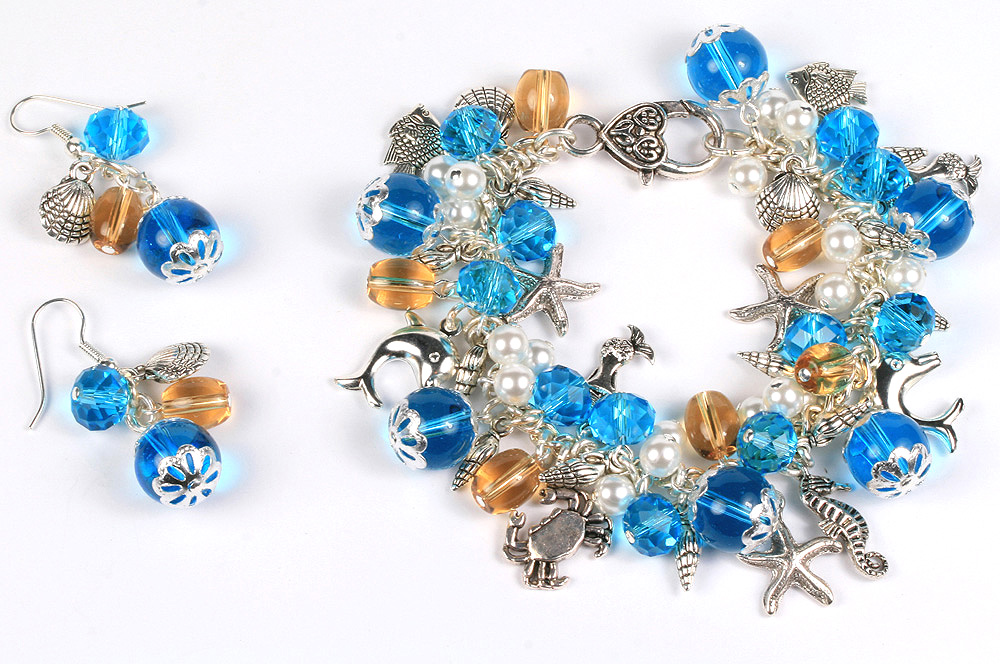 Garden theme
We chose some pretty themed charms including flowers, butterflies, ladybirds, bees, birds and even some fairies!  We also chose puffy rondelles, pearls and bicones in mauves and greens to create a relaxing garden colour scheme.  Small ornate bead caps look good with the variety of charms.  These were assembled in a pattern of charm, single bicone on a jump ring, puffy rondelle and pearl cluster on the same jump ring and then another charm using every other link to create a full effect.
---