Valentine's Day Jewellery with Amos and Kheops par Puca Beads
If you're looking for some inspiration for your Valentine's Day jewellery, two hole beads can make some lovely interesting designs.  The Amos par Puca beads can be used to create lovely heart motifs while the  triangular Kheops par Puca beads make a lovely heart-shaped pendant.
Valentine's Day Jewellery with Amos par Puca Beads
The little Amos par Puca beads are perfect for Valentine's Day jewellery.  Amos means love and two of these beads together make a very pretty little heart motif.
The heart motif can easily be used to make some lovely Valentine's day jewellery like the St Valentin's necklace below.  This pattern is by Annick Puca, the Parisian designer of the Perles par Puca range.  You can download the St Valentin's necklace pattern here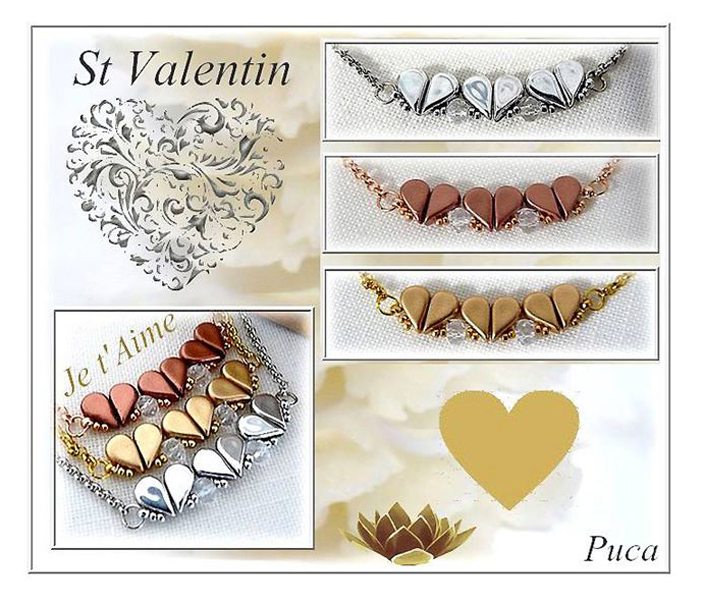 These little heart motifs can also be sewn onto a bracelet band or other fabric.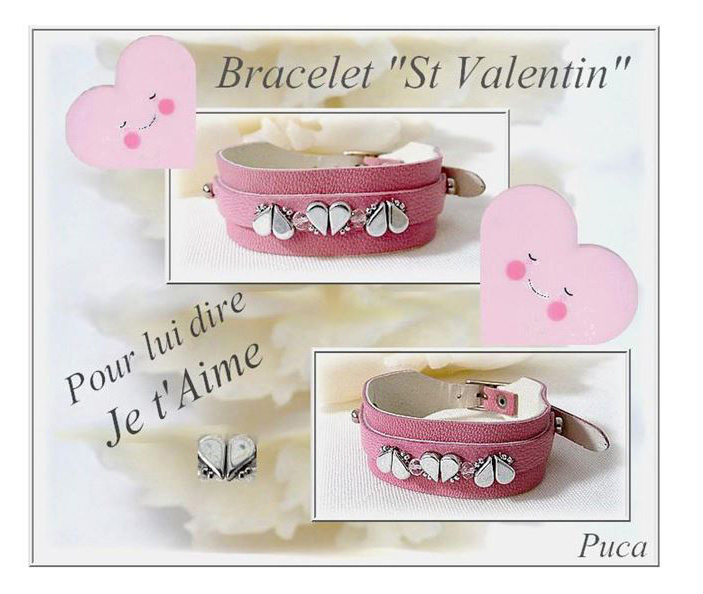 This heart motif can also be incorporated into other jewellery designs.  Puca's Earrings Design below shows the amos beads with Arcos par Puca and Tinos par Puca beads.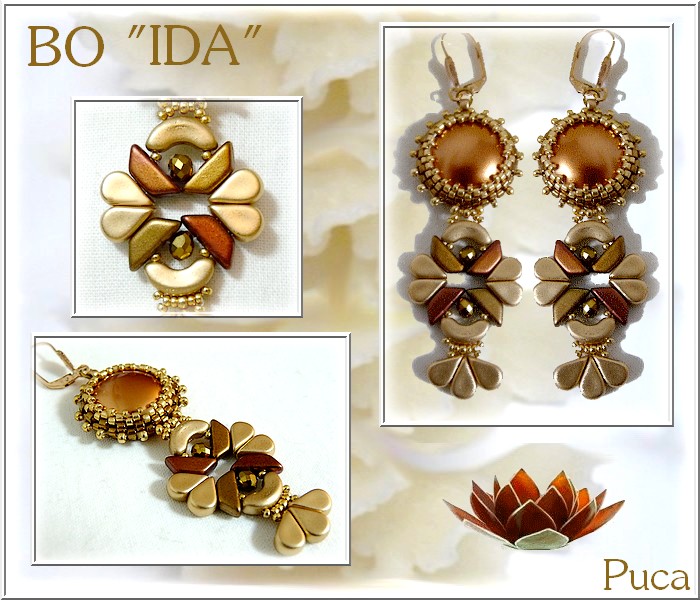 This component could be repeated to make a lovely bracelet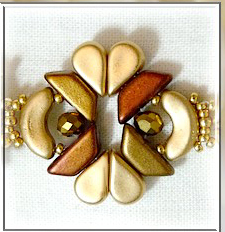 Valentine's Day Jewellery with Kheops par Puca Beads
The Kheops par Puca beads were the first beads designed by Annick Puca.  These 6mm triangular two-hole beads are easy to place in different positions to create a particular shape.  The heart pendant design below is also by Annick Puca.  This version uses pastel colours and is edged with crystal puffy rondelles and seed beads.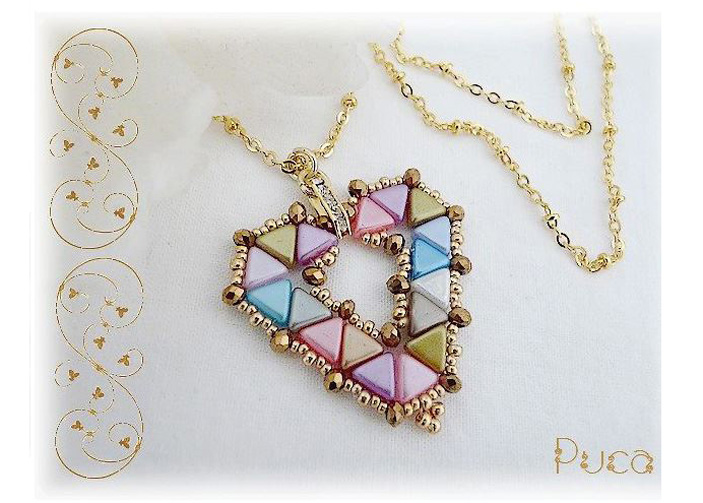 Try varying the colour or edging with different beads such as bicones and adding a drop bead or pendant for a different look.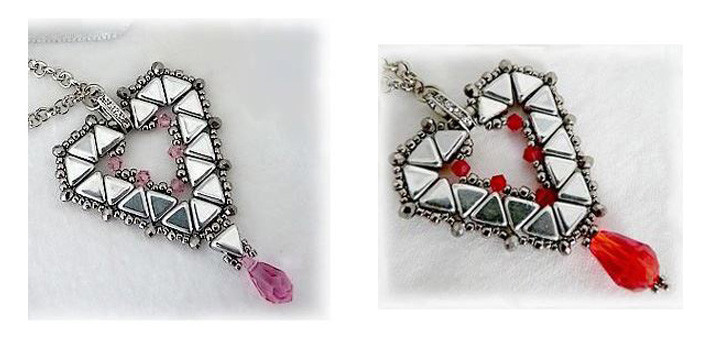 The Amos par Puca and Kheops par Puca beads are available in lots of lovely colours and finishes
Popular colours include the metallic and chalk shades shown below
Matt Metallic Colours
These are very popular and available in many other beads if you want to match them.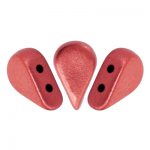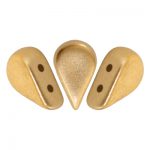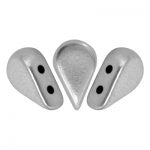 Chalk Lustre Colours
The chalk shades are lovely soft colours for a subtle look.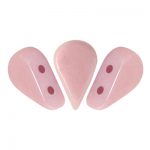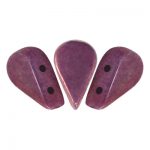 Metallic suede colours
These come in some lovely vibrant colours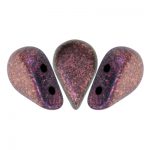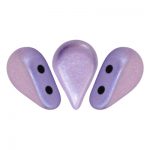 Customers can see all the Amos par Puca bead colours here
You can view huge range of Kheops par Puca colours here
This necklace and earrings set shows how beautifully the chalk lilac lustre and chalk vega combine.  The jewellery set also uses fire-polished beads in the same colours.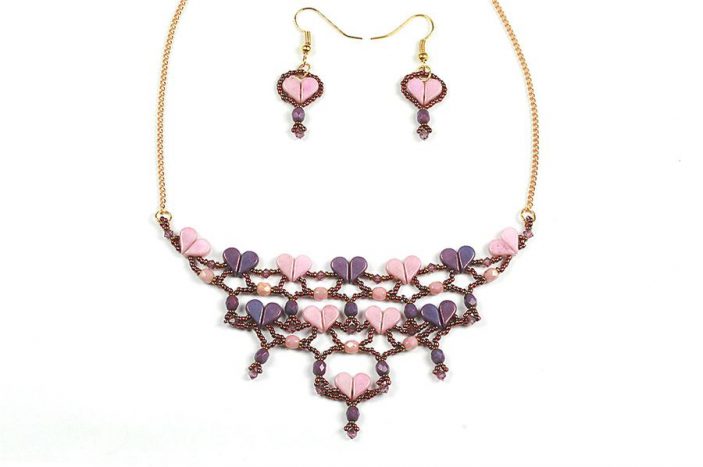 ---