Our Favourite Swarovski Heart Pendants and Beads
Swarovski heart pendants and beads are perfect for making Valentine's Day jewellery.  We've picked our favourite shapes, including the very popular xilion heart pendants, together with some easy ideas for making Swarovski heart earrings, bracelets and pendant necklaces.
Swarovski Xilion Heart Pendants
the xilion hearts are by far the most popular Swarovski heart pendants as they're so versatile. They come in a huge range of colours including the lovely new shimmer shades.
Classic Swarovski xilion heart earrings
The 10mm hearts make very pretty little earrings.  We used small bails for a decorative touch.
---
A 4mm bicone is a good size to use for longer elegant earrings
---
An 18mm pendant is the perfect size to make a delicate necklace, shown here in light siam shimmer.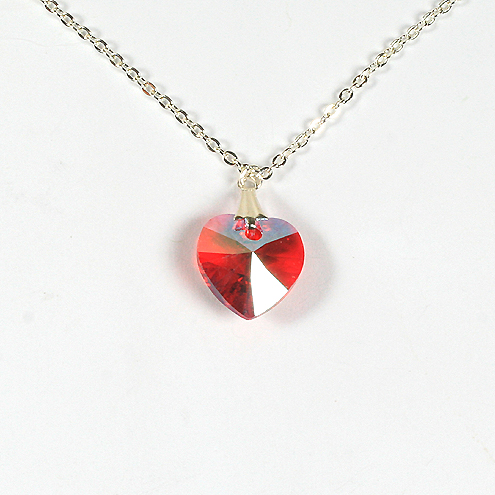 Swarovski xilion pendant charm bracelet and earrings
The 10mm pendants look lovely combined with a selection of Swarovski bicones, and metal beads and pendants to make a pretty charm bracelet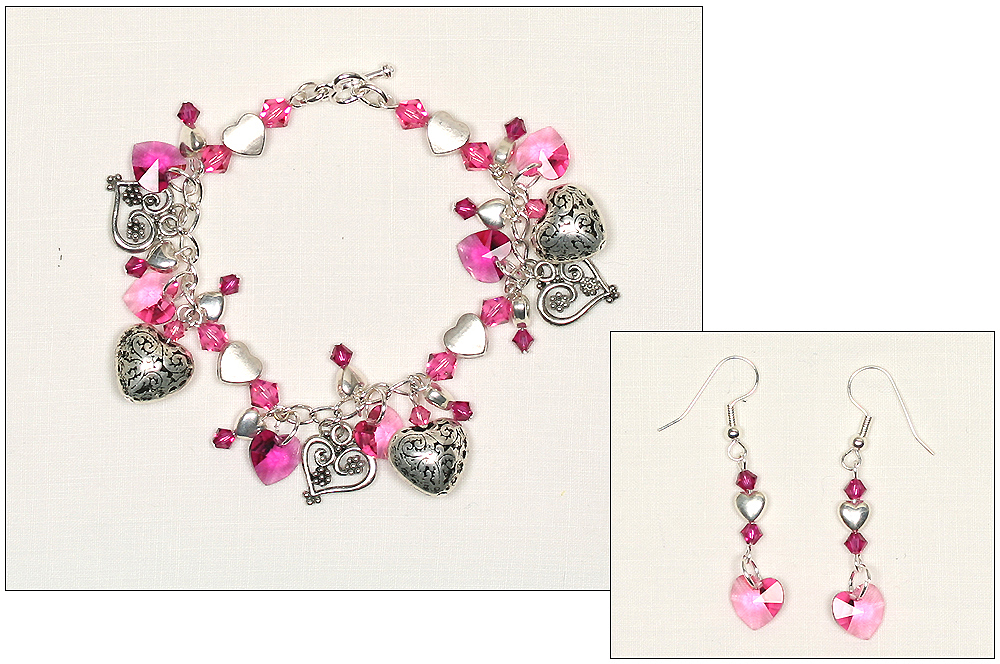 Swarovski Xilion heart celtic chain maille earrings
These celtic chain maille earrings in silver and rose gold work beautifully with the 10mm fuchsia heart pendants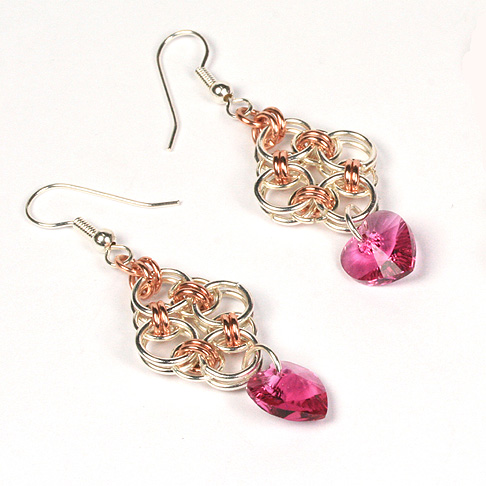 3 + 3 chain maille bracelet
We love the contrast of this chunky chain maille bracelet and the dangling xilion hearts. This easy maille bracelet is made with thick 9mm jump rings and then 10mm xilion hearts in rose, fuchsia and tanzanite are added with 5mm jump rings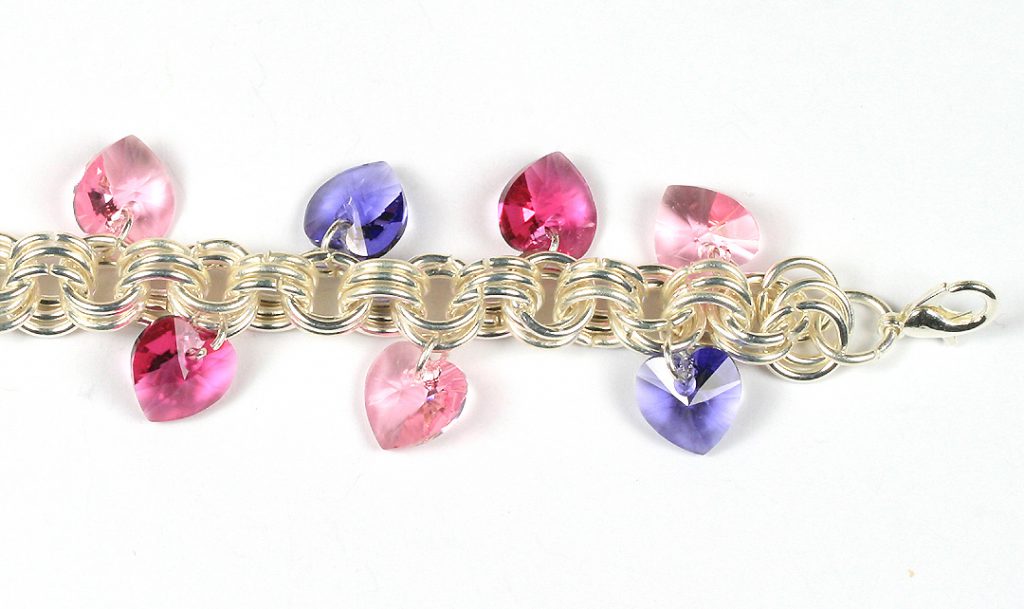 Swarovski Truly in Love Pendant
The Truly in Love Pendant makes a beautiful statement piece.  We added a diamante clasp to this 28cm Swarovski Truly in Love Pendant in gorgeous crystal Bermuda blue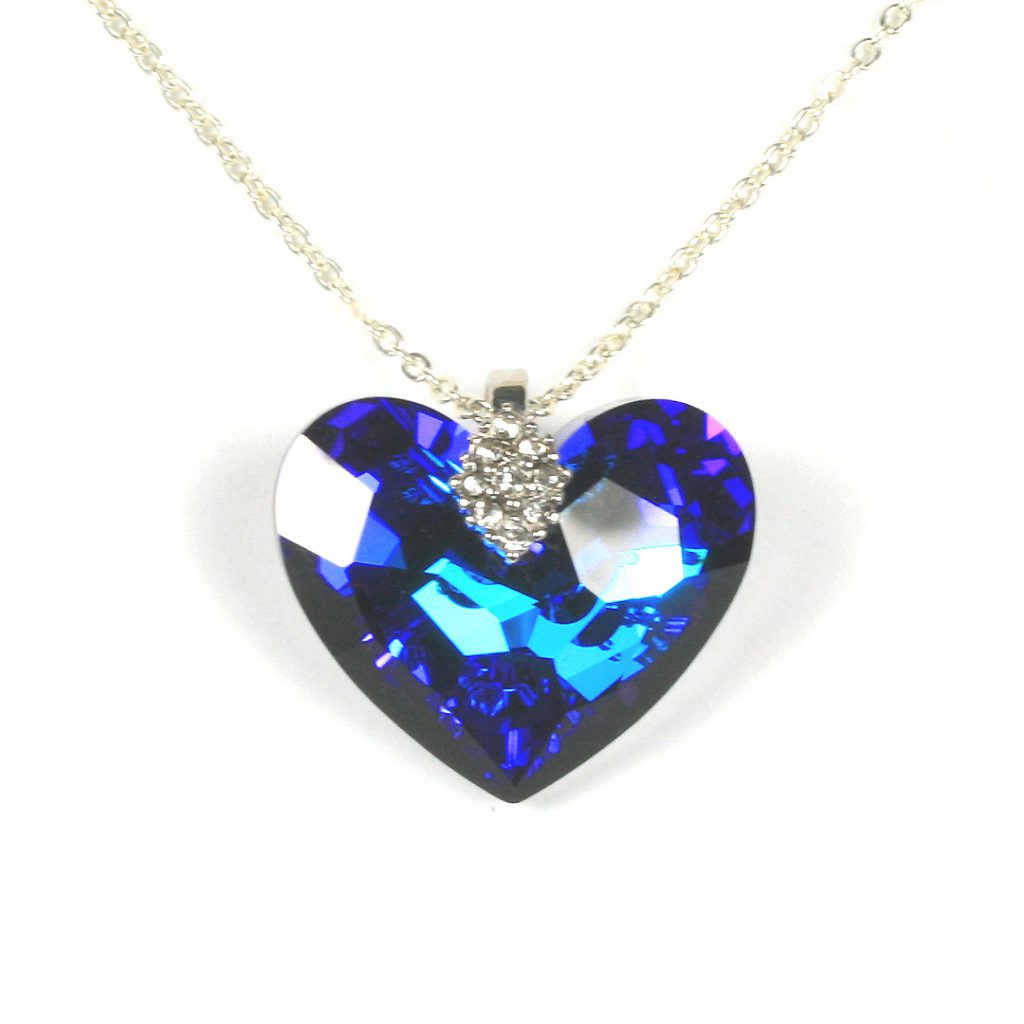 Swarovski Wild Heart Pendant
Wild Heart Pendants have a distinctive shape – simple but elegant.  This 17mm wild heart pendant is in vitrail medium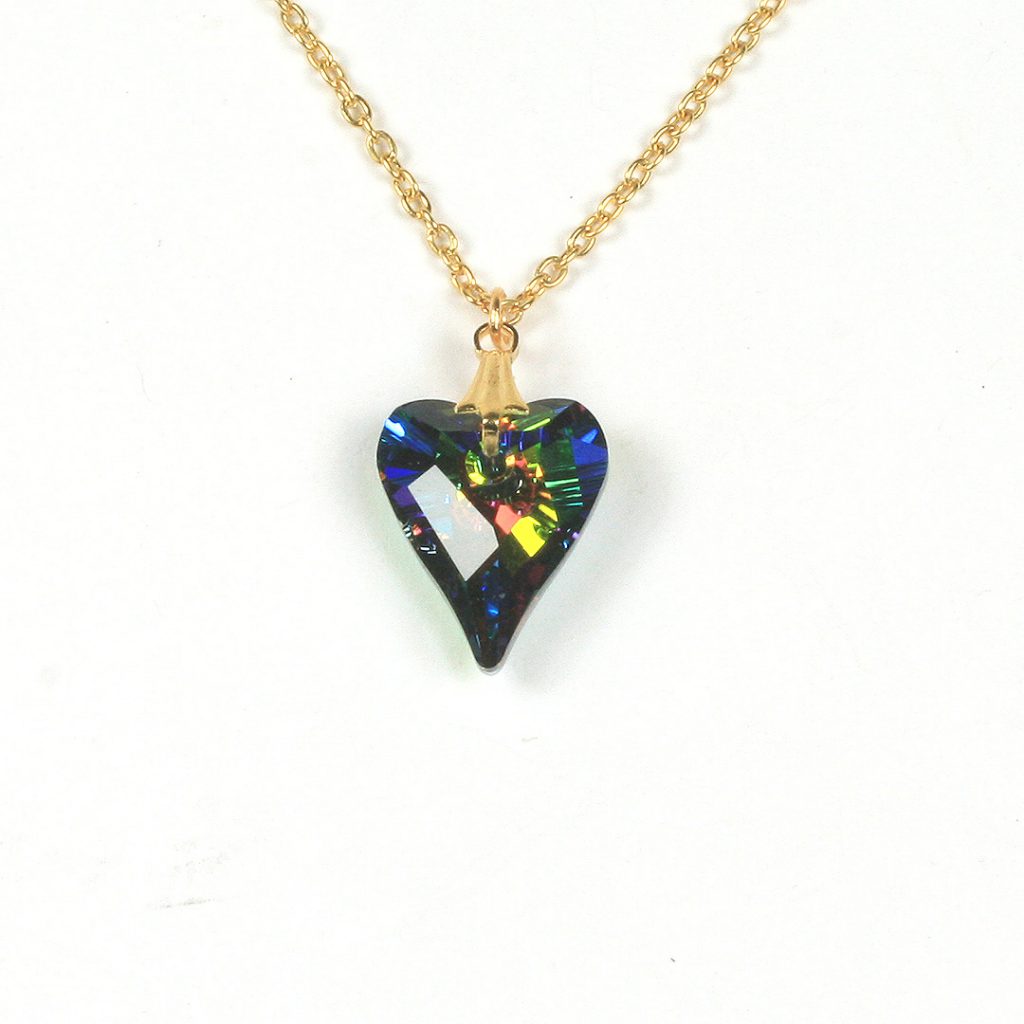 Swarovski Devoted 2 U Pendant
Fine 1nn leather cord is a good way of adding a boho touch to your jewellery.  We used a 27mm Devoted 2 U heart pendant in crystal golden shadow.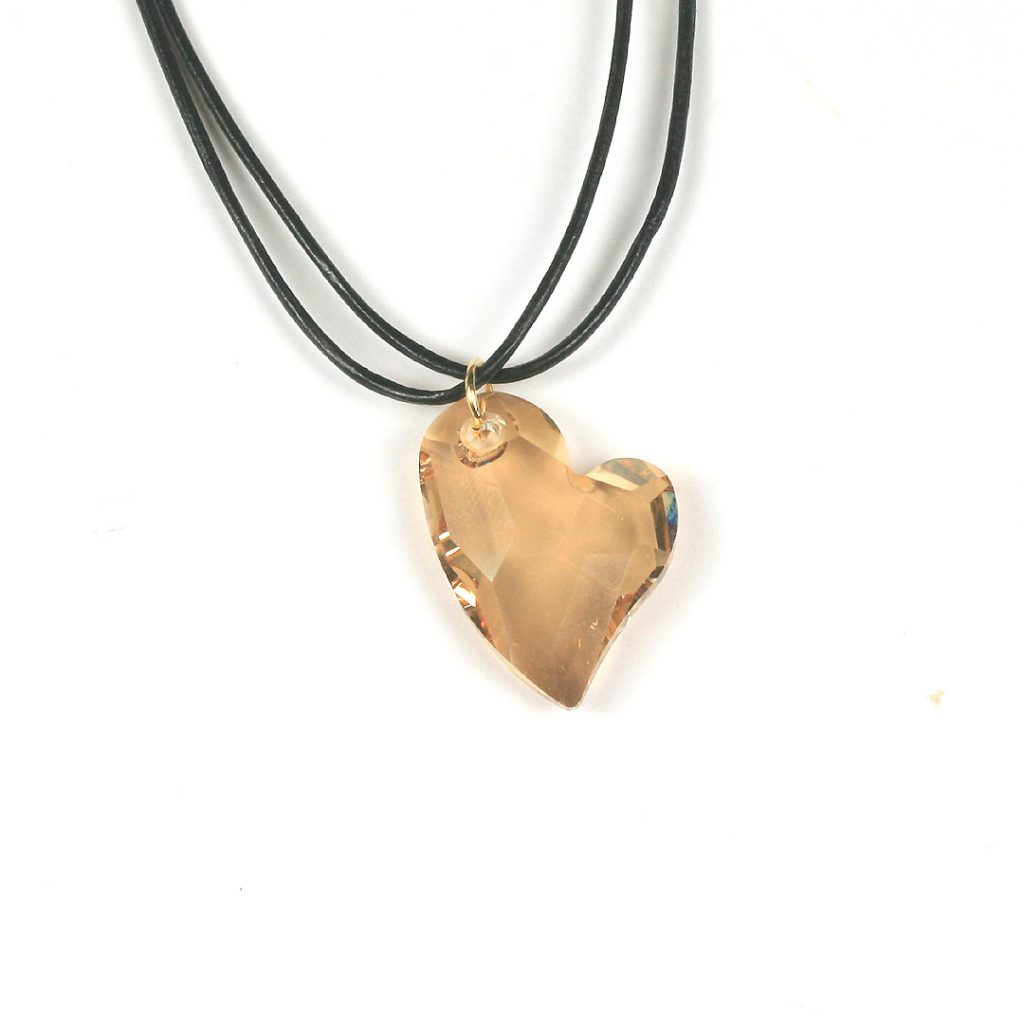 View Swarovski Crystal Pendants here
Swarovski Love Beads
And last but not least, don't forget these cute love beads.  They're available in 8 and 6mm sizes and, being beads, are very easy to link together.
These Swarovski Love Beads Earrings are in blush rose.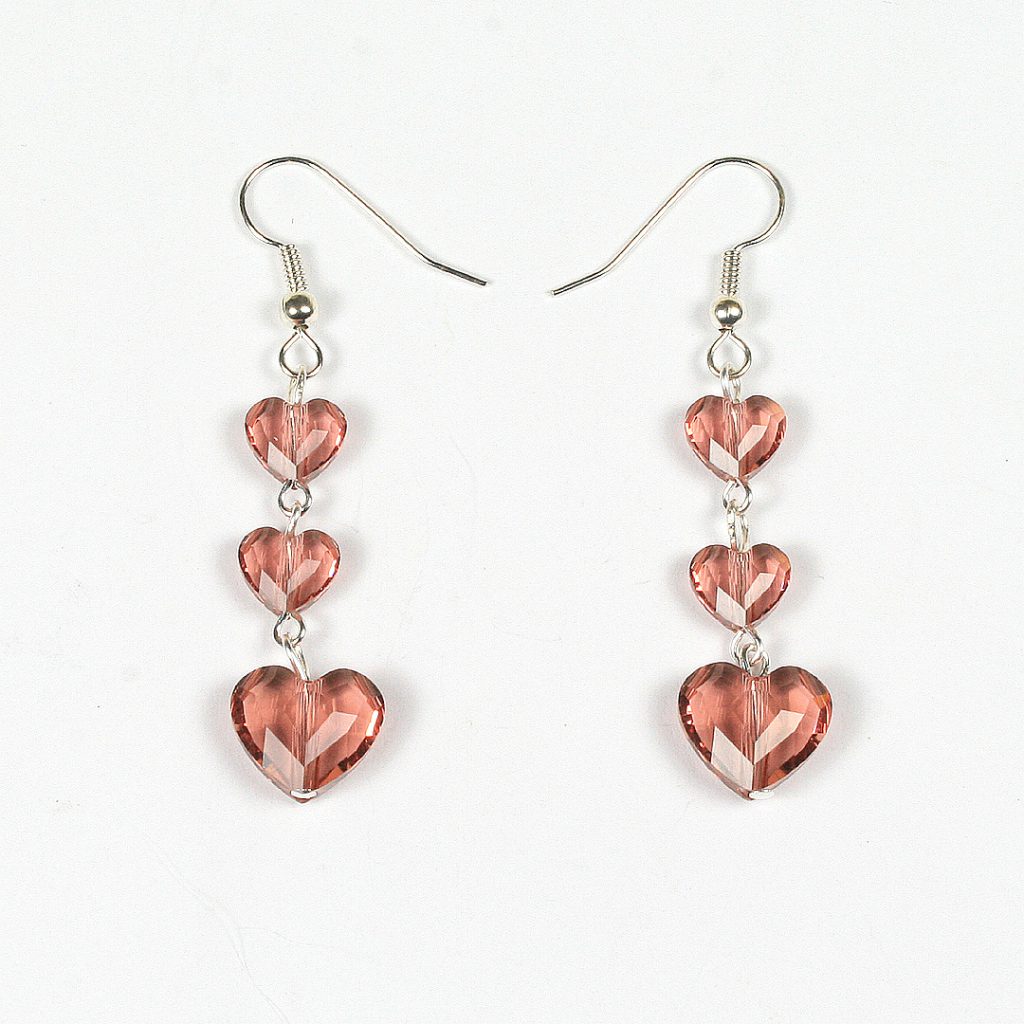 View Swarovski Love Beads here
---