Love All - Swarovski Innovations and Inspirations Fall/Winter 2020/21
Swarovski Innovations –  Love All – features a fabulous new heart pendant, gorgeous new berry pearls, hotfix and no hotfix flatbacks and sparkling fancy stones plus beautiful new Lacquer Pro DeLite colours.  Here are some of the highlights of the new shapes and colours now available.
Love All – Innovations and Inspirations Fall/Winter 2020/21
Heart Cut Pendant
Hearts are the most popular shape and this gorgeous heart is a classic gemstone-inspired crystal with a multi-layered cut with 50 facets.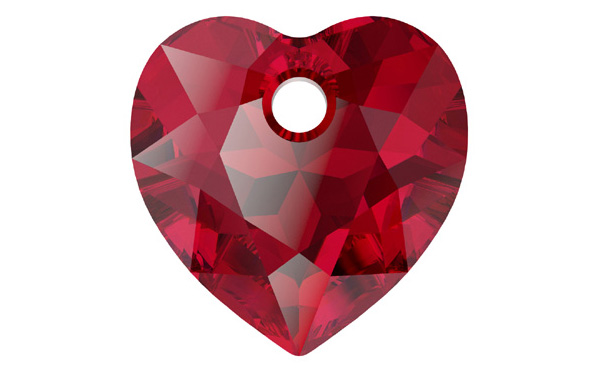 New Lacquer Pro DeLite Effects
These 5 new colours harmonize with the existing range while their facets emphasize the depth and clarity of the crystal giving increased sparkle.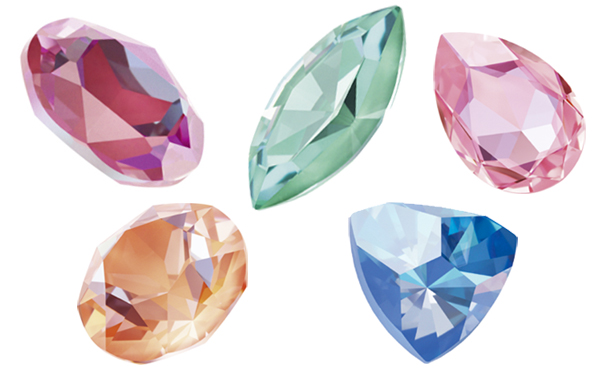 New Crystal Berry Pearls
The new crystal mulberry and elderberry pearl colours are inspired by autumn colours and look stunning together.  You can mix and match them with the new DeLite effects as well as other crystal pearls.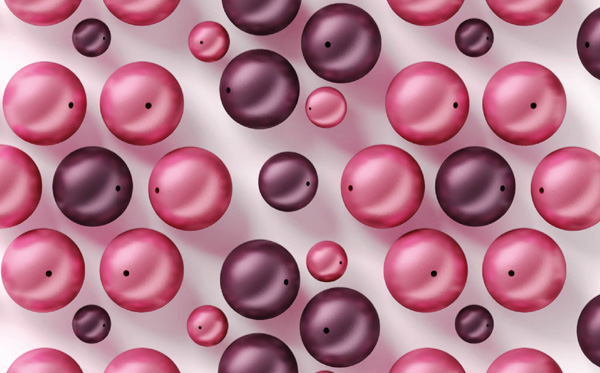 New Fantasy and Imperial Fancy Stones
The hexagon and cushion fantasy stones have a new cut with multiple irregular facets giving great sparkle and depth.  As well as sew-on settings, the Fantasy fancy stones also have the option of these 1-loop and 2-loop glue-in settings so you can easily make lovely pendants and components.
The elongated Imperial stone, inspired by 1940's, is an elegant and contemporary shape.  You can also buy sew-on setting for this stone.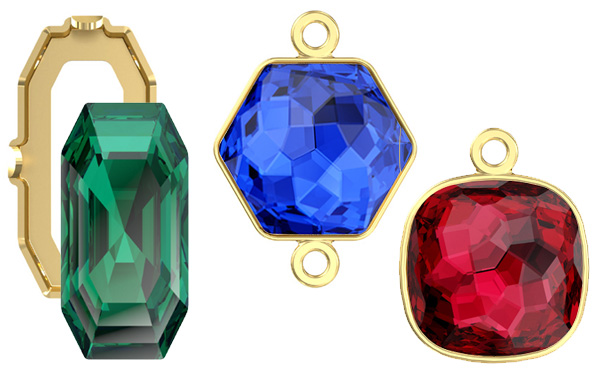 New Paisley and Cushion Flatbacks
The classic paisley shape comes in right and left hand versions which work well in "mirror" designs.  The Paisley X and Y shapes also create beautiful fluid motifs and combine well with drop shapes.
The symmetrical cushion shape looks great as the focal point of a motif.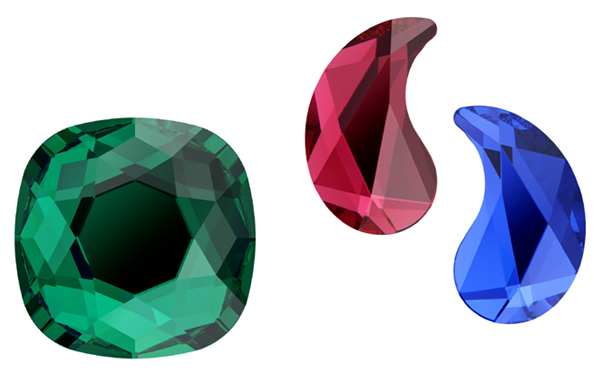 Our Pick of the Rest from Swarovski Innovations – Love All
Other highlights include the gorgeous new rose peach shimmer which is available in a range of favourite beads, pendants and stones.
The slim triangle sew-on stones work well with other angular sew-ons and their large size gives great light reflection.
The 2.85×3.9mm rice pearls are idea for embroidery as well as jewellery.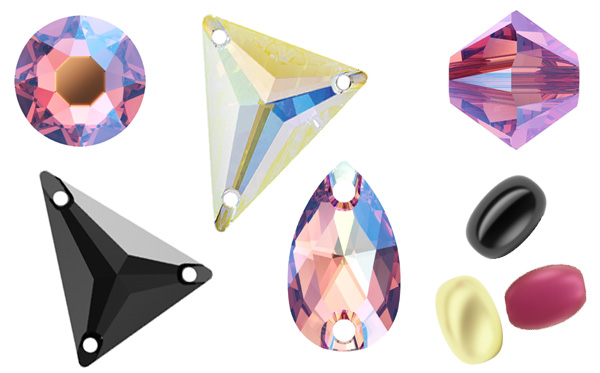 You can see all our Swarovski beads, pendant, pearls, flatbacks, fancy stones here
---