We have some more ideas from Annick Puca for creating pendants with Les Perles par Puca using wire circles, including pretty decorative edgings.  Plus we have some projects using filigree metal circles and Lacy's Stiff Stuff to create stunning pendants using cabochons.
More Pendants with Les Perles par Puca using Wire and Filigree Circles
This Pilar pendant uses the original par Puca bead, the Kheops par Puca, together with Piros and Samos beads.  The Piros beads make a lovely decorative edging around the outside of the 50mm frame.  A 30mm frame is used around the central motif formed by the Samos beads.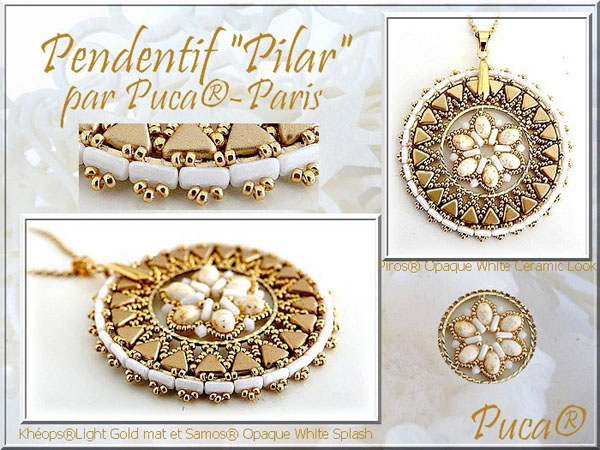 The Ova pendant uses the Piros par Pucas in the same way, this time to create an edging on the 50mm circle around the Helios beads which also links in with the Piros and Minos beads in the inner circle.
An alternative edging around the metal circle is the delicate brick stitch edging shown on the Kali Pendant.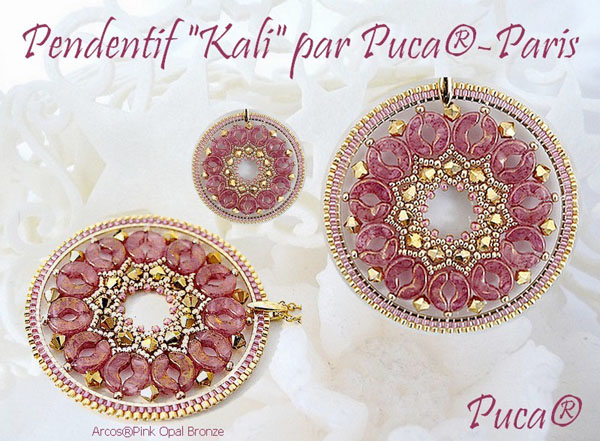 A filigree circle is also a good way to create more options by giving more support to a design.  The lovely Ola pendant below uses a 40mm filigree circle to provide a firm backing to the design.  This allows a 14mm cabochon to be used as the centrepiece with a striking edging of Paros and Minos beads.  The beads can be sewn to the filigree circle which also makes a pretty edging to the whole design.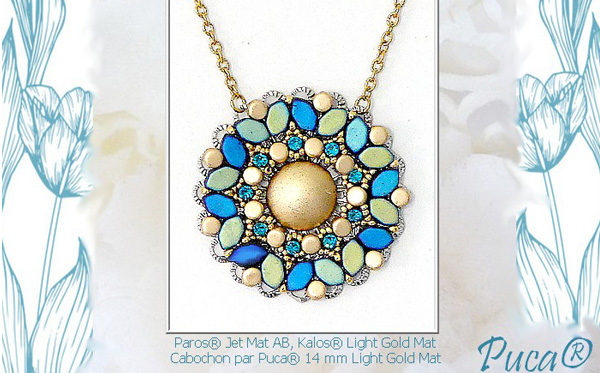 Pendants with Les Perles par Puca using Lacy's Stiff Stuff
You can also use Lacy's Stiff Stuff or a similar backing to create pendants.
The Madison pendant below uses a 25mm cabochon glued onto a square of the Stiff Stuff and edged with cup chain and beads.  It is then cut to shape and a pretty bail attached.  You can find step by step details of this project on our website.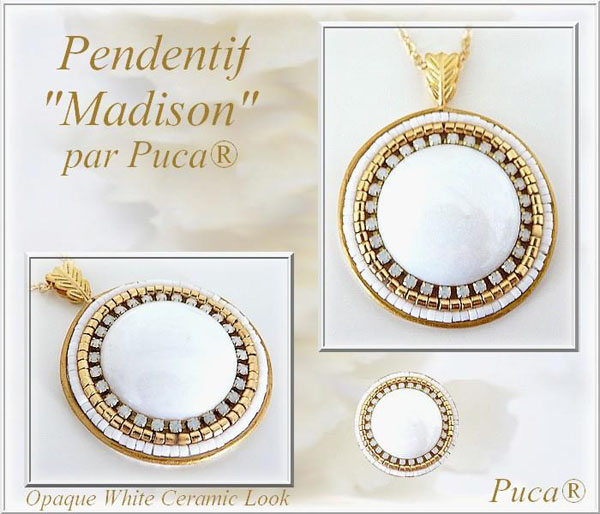 This technique is taken further with the stunning Recto Verso Pendant.  This also uses the Stiff Stuff to create a firm backing for the gorgeous design with a 25mm cabochon and Pilos par Pucas.  The backing also allows the option to create a different design on the other side of the pendant using Arcos and Amos par Puca beads!  If you just want to make the cabochon face you could again use a filigree circle as the backing.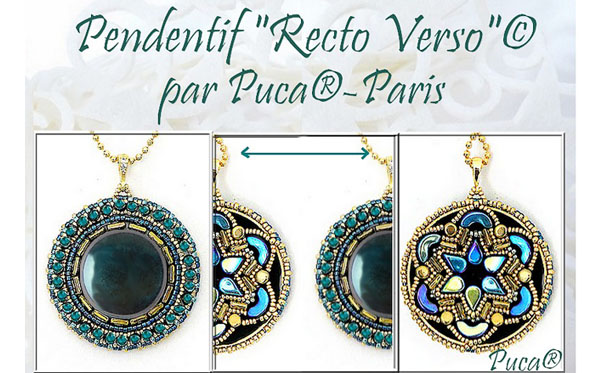 ---