.The 2-hole 8x5mm paisley duo beads are very versatile with a lovely colour range.  We have some great projects for Paisley Duo Bracelets which feature just the paisley duos or ideas for integrating them with other 2-hole beads such as ginkos.
Paisley Duo Bracelets
We have some lovely free projects for Paisley Duo bracelets, courtesy of the BeadSmith.  You can find these on our website by clicking on the Projects Download button on the top left of the first Paisley Duos shopping page.
You can choose from lots of lovely paisley duo colours
Paisley Duo Hearts Bracelet
This pretty design is by Leslie Rogalski.  It is suitable for an advanced beginner and uses criss-cross stitching.  As the paisley duo beads are flat both sides there is no therefore no need to have a right and a left versio, you can just flip them over to create the heart shape.  To accentuate the heart shape, just choose the same colour for each pair of paisley duos.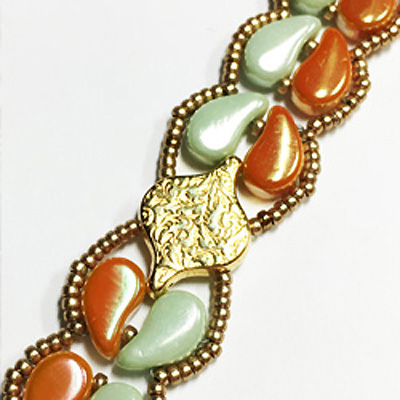 Pretty Paisley Bracelet
Another easy design by Leslie Rogalski also shows the advantages of using the flat paisley duos, this time to create flower-shaped components.  These are linked together with 2-hole gem duos.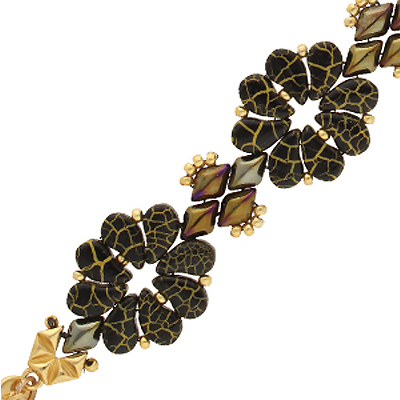 Anthousai Bracelet
This very pretty design by Norma Jean Dell combines the paisley duos with a 6mm or 7mm cabochon.  8/0, 11/0 and 15/0 seed beads add detail while 4mm crystal bicones add sparkle.  This project is intermediate level and uses modified right angle weave.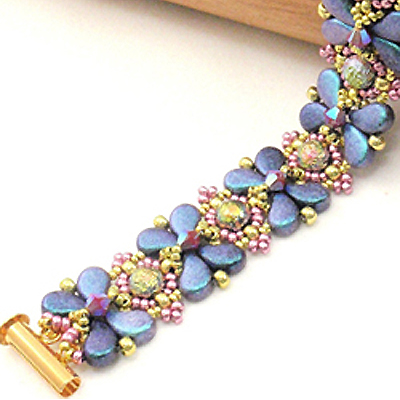 Bondelli Trillium Bracelet
Carolyn Cave's design just uses superduos and delicas with the paisley duos to create a lovely delicate flower motif.  Delicas in three toning shades create a light subtle effect.  Again this is an intermediate level project which uses herringbone and circular netting.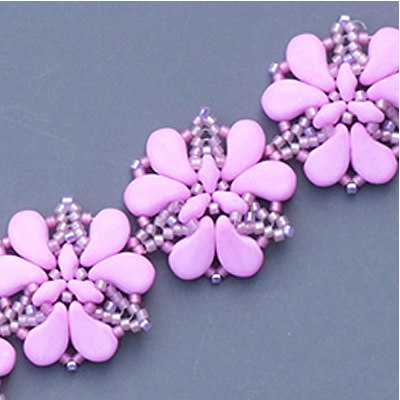 Fusion Bracelet
Finally, we have a project from Debora Hodoyer.  This intermediate level design uses right angle weave, picot, and a peyote stitch variation.  The move complex design shows how the paisley duos can be integrated with other 2-hole beads such as the 7.5mm ginkos and 7mm cabochons.  A variety of other beads including the 2-hole Minos par Pucas, fire-polished beads, bicones and seed beads help to create the "fusion" effect.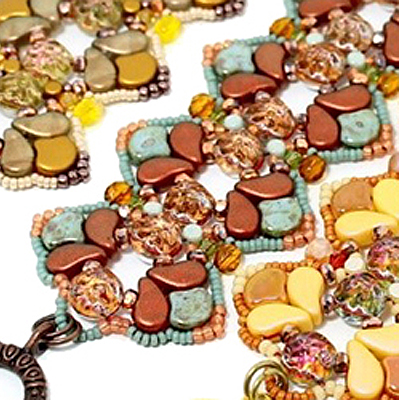 ---