Preciosa, Matubo, Toho and Miyuki Seed Beads
Czech and Japanese Seed Beads in General
The best quality seed beads are the Czech and Japanese seed beads which have been around for a very long time.  The traditional round seed beads may also be know as rocailles.  They are used just on their own in delicate bead-weaving or can be used to complement other beads. The current trend for making jewellery with multi-hole beads has seen a surge in their popularity.
The main suppliers for good quality seed beads are the Czech Republic and Japan.
Seed Bead Sizes
Seed bead sizes can be quite confusing.   The larger the bead size the smaller the actual bead is.  Hence, a 15/0 seed bead is smaller than an 11/0 seed beads.  The most popular sizes are the 10/0 and 11/0.
Seed beads may also be slightly differently shaped depending on the supplier and the manufacturing process.
Our Seed Bead chart will give you useful information about the diameters and hole sizes from the most popular suppliers of Czech and Japanese seed beads, together with the approximated number of seed beads by weight.
View Seed Bead Size Chart   with size and weight information here.
Czech Seed Beads
Czech seed beads are one of the two most popular seed beads available.  We stock ranges from Preciosa and also from Matubo.
Preciosa Seed Beads
The Preciosa seed beads are a very popular good all-rounder which offer great value and a good colour range including opaque, transparent and silver-lined.  Available in 10/0, 8/0 and 6/0 sizes.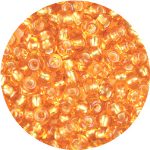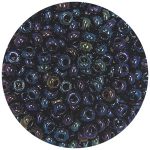 Matubo Seed Beads
The Matubo seed beads are very regular and and have a consistent size.  They are  renowned for their beautiful finishes which are available in a variety of effects including metallic, chalk and Picasso.  They are currently available in 8/0 and 6/0 sizes.
The Matubo seed beads are very useful if you want to match some of the colours available in the multi-hole beads such as the chalk and Picasso or travertine shades.   These larger sizes are good for techniques where you want to show off the seed bead finish such as kumihimo, knitting or crochet.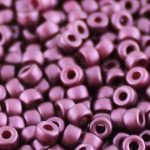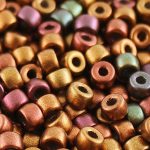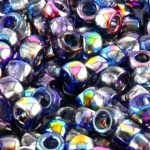 Matubo Superduos and Miniduos
Japanese Seed Beads
Toho Seed Beads
These are renowned for their very high quality, very regular size and consistency.  They also come in some very beautiful and unusual colours.  One of the most popular Toho colour ranges are their higher metallic shades such as the metallic dragonfly shown below.  They are have some beautiful subtle demi-glazes finishes like the soft blue shown here. They are also noted for their range of extremely durable permanent finish galvanized colours which come in some gorgeous vibrant shades like this galvanized violet
The most popular size is the 11/0 followed by the 15/0 as they are particularly valued for their regularity and therefore very popular for bead-weaving.  However, like the Matubos, the larger sizes are also very good for more specialist techniques such as kumihimo.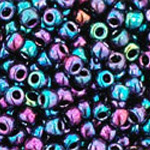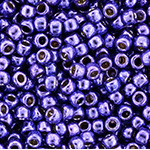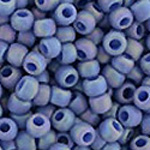 Miyuki Seed Beads
The Miyuki seed beads are exceptionally regular and the delicas, in particular, are highly valued for the most delicate and precise beadwork.
The delicas come in an enormous array of colours and complex finishes including colour lined beads and mixes.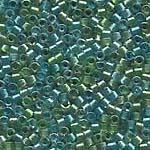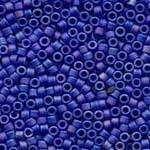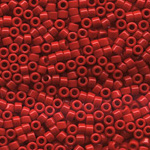 ---