Easy Christmas Decorations including Snowflakes, Stars and Angels
We have some great idea for Christmas Decorations including beautiful beaded and wire snowflakes and stars and little lucite angels which would look lovely hanging on a tree or in a window to catch the light. They would also make welcome little gifts.
Preciosa Snowflakes with Candy Beads
These delicate snowflakes are easy to make using the very popular 2-hole 8mm candy beads from Preciosa Ornela together with seed beads.  The white and crystal beads give a lovely traditional look or try making them in bright colours to catch the eye.  You can download the Preciosa Candy Snowflakes project here or on our website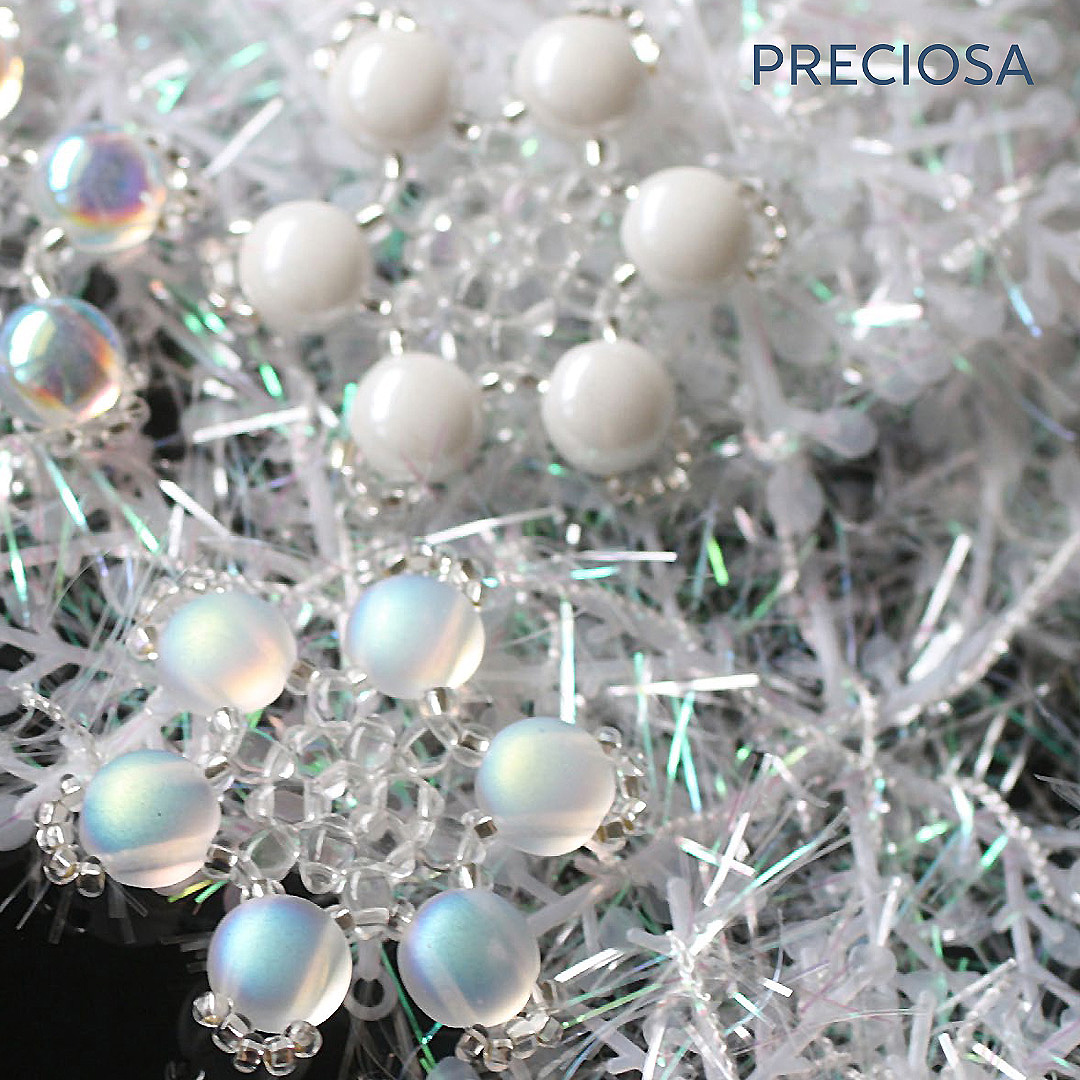 Preciosa Snowflakes with Chilli and Thorn Beads
Another great snowflake project from Preciosa.  This stunning design uses the 2-hole 4x11mm chilli beads together with the 6x16mm thorn beads.   Download this Preciosa Chilli and Thorn Bead Snowflakes project here.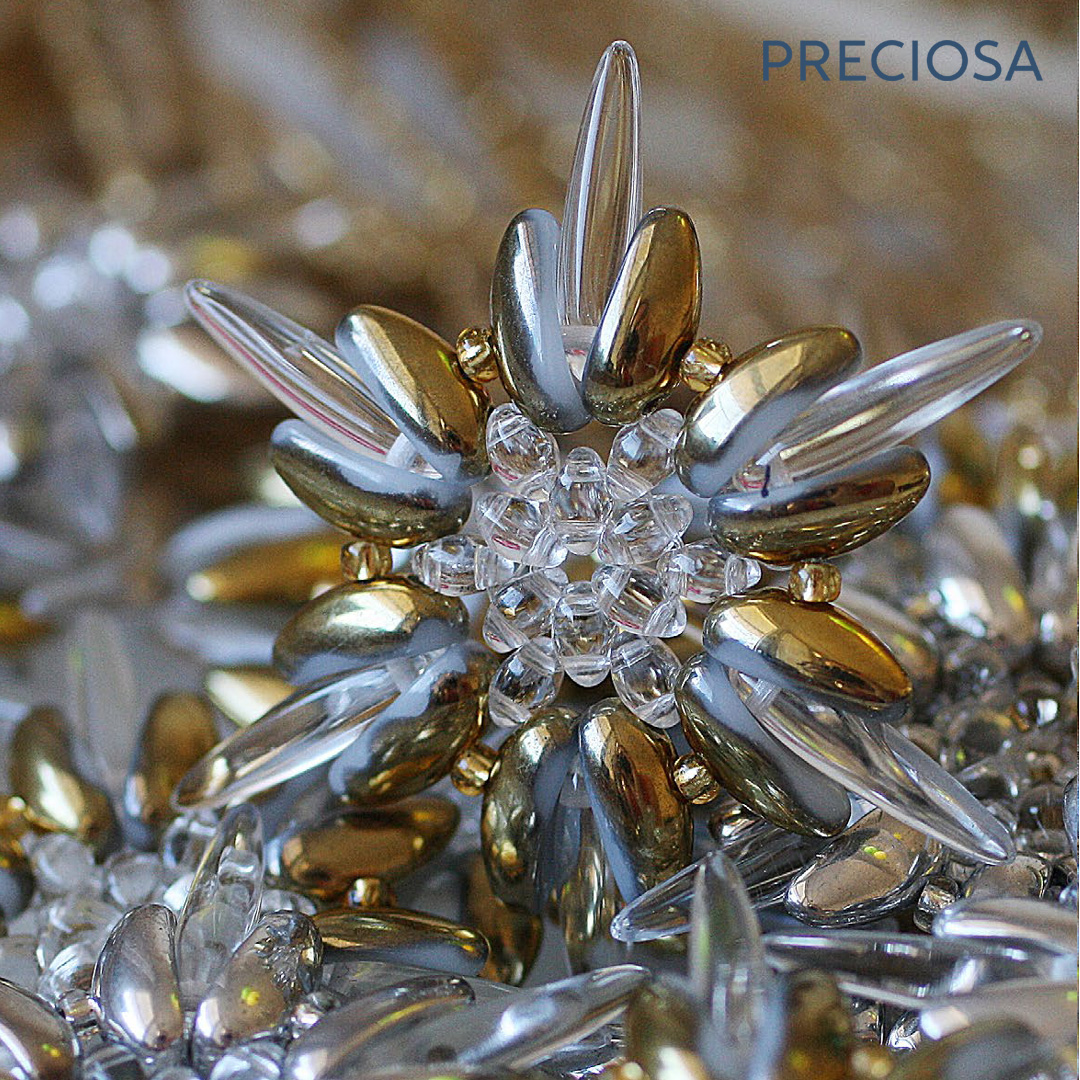 Snowflakes or Stars using Snowflake Wire Forms
These wire forms are great for making quick and easy Christmas decorations and can be used as snowflakes or as a star on the top of a Christmas tree.  Just choose a variety of glass beads in different shapes to provide contrast and interest.  Then just thread on the wire spokes to make a symmetrical pattern.  The Czech glass beads used come in a wide range of colours so you're sure to find a colourway to match your festive themes.
Large snowflakes or stars
We used 6, 8, and 12mm fire-polished beads in two colours together with 6/0 Preciosa seed beads in the centre and between the large glass beads on the 6″ wire form.
Medium snowflakes or stars
Here we used 7x10mm and 4x6mm crystal puffy rondelles, 6mm Czech crystal bicones and 4x3mm pinch beads to create some contrasting shapes on the 4.5″ wire forms.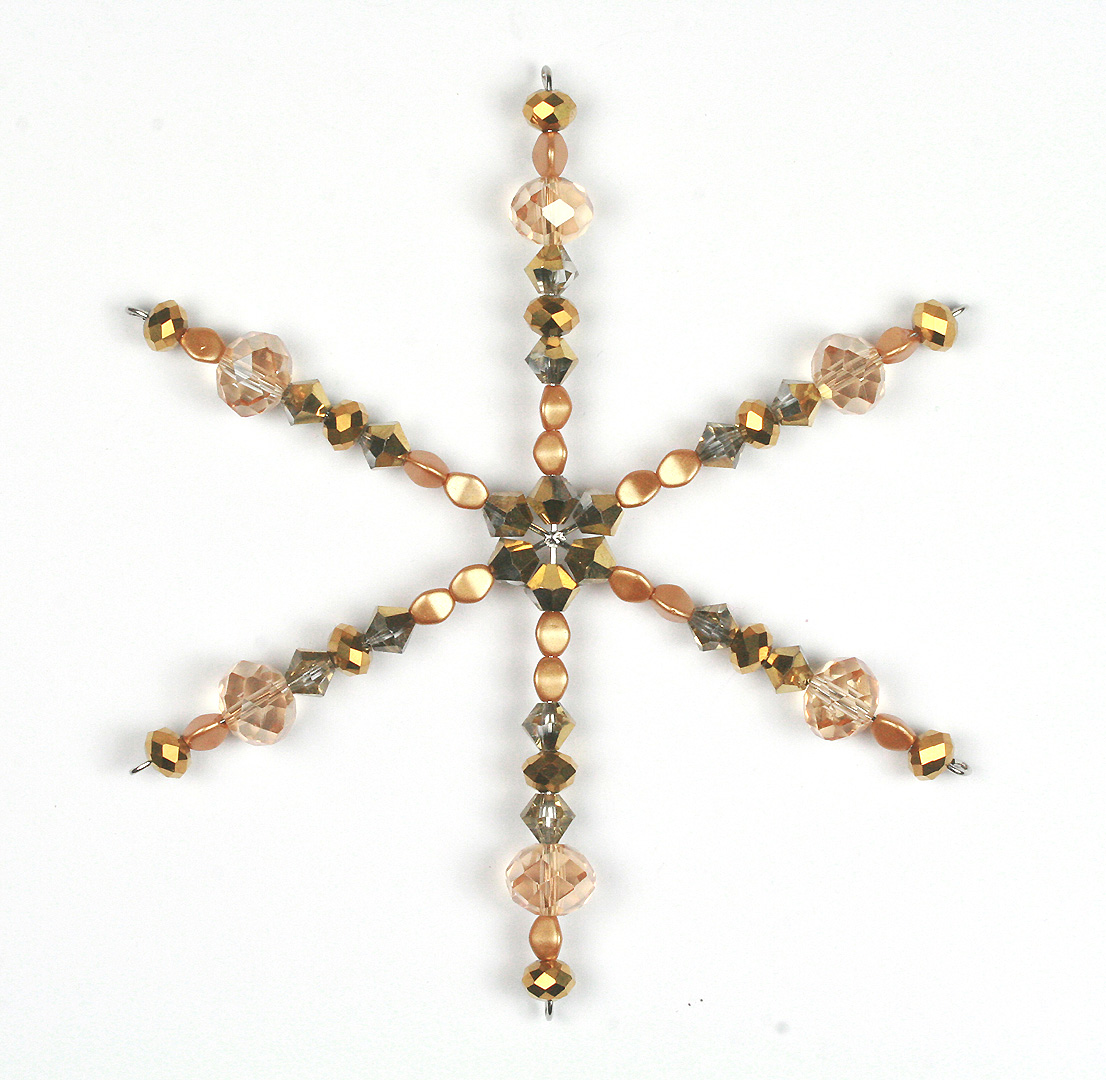 Small snowflakes or stars
4x6mm crystal puffy rondelles, 4 and 6mm Czech crystal bicones and 3mm fire-polished beads on a 3.75″ wire form were used to make these delicate designs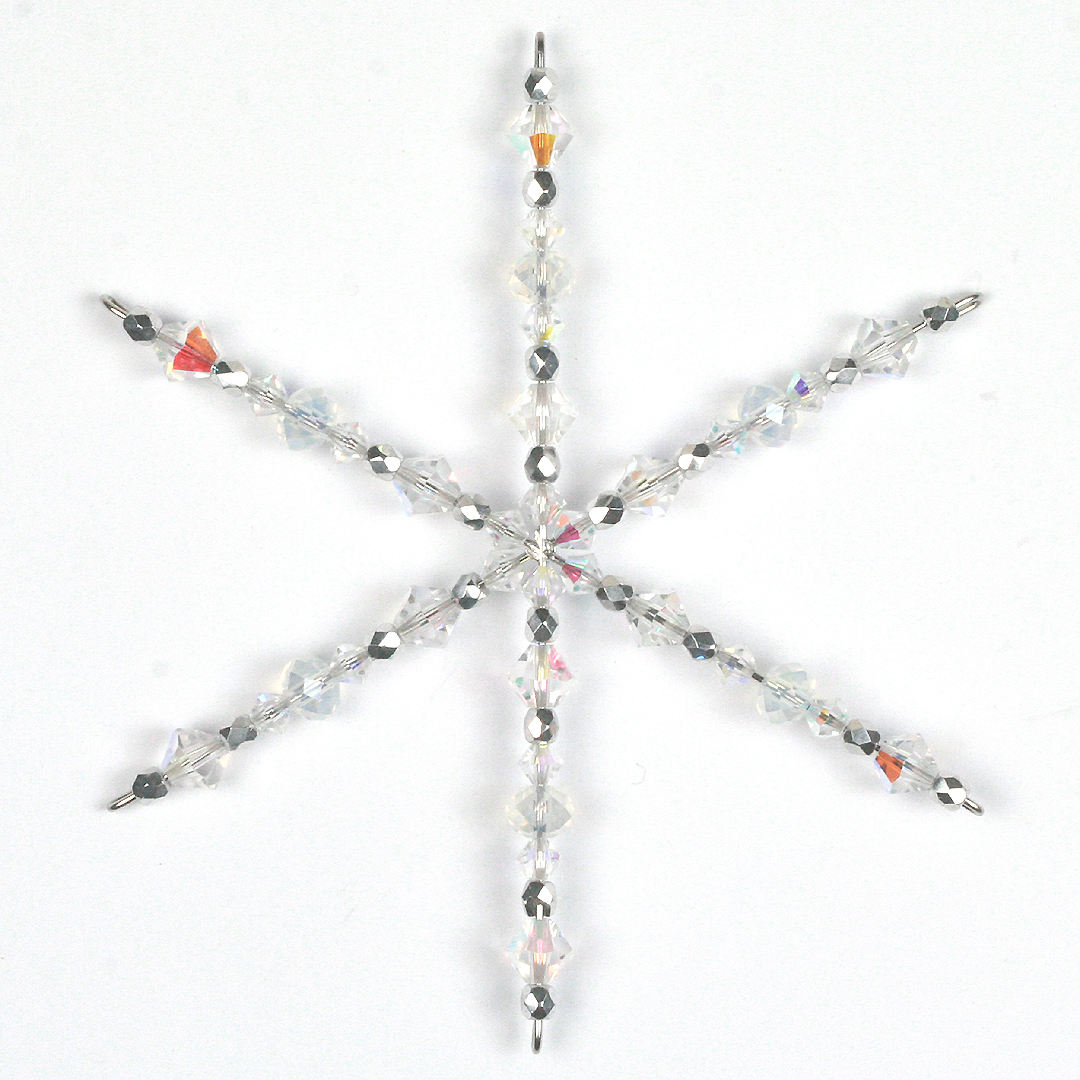 Angel Christmas Decorations
These little angel decorations are so quick and easy to make and look lovely as little decorations.  Just thread two 10x14mm frosted lucite flowers on a headpin to form the angel's dress, then a 6mm spacer bead and 27mm angel wings, an 8mm facetted acrylic bead for the head and a 6mm spacer bead topped with a 3mm metal bead for the halo.  Make a loop and your angel is ready to go.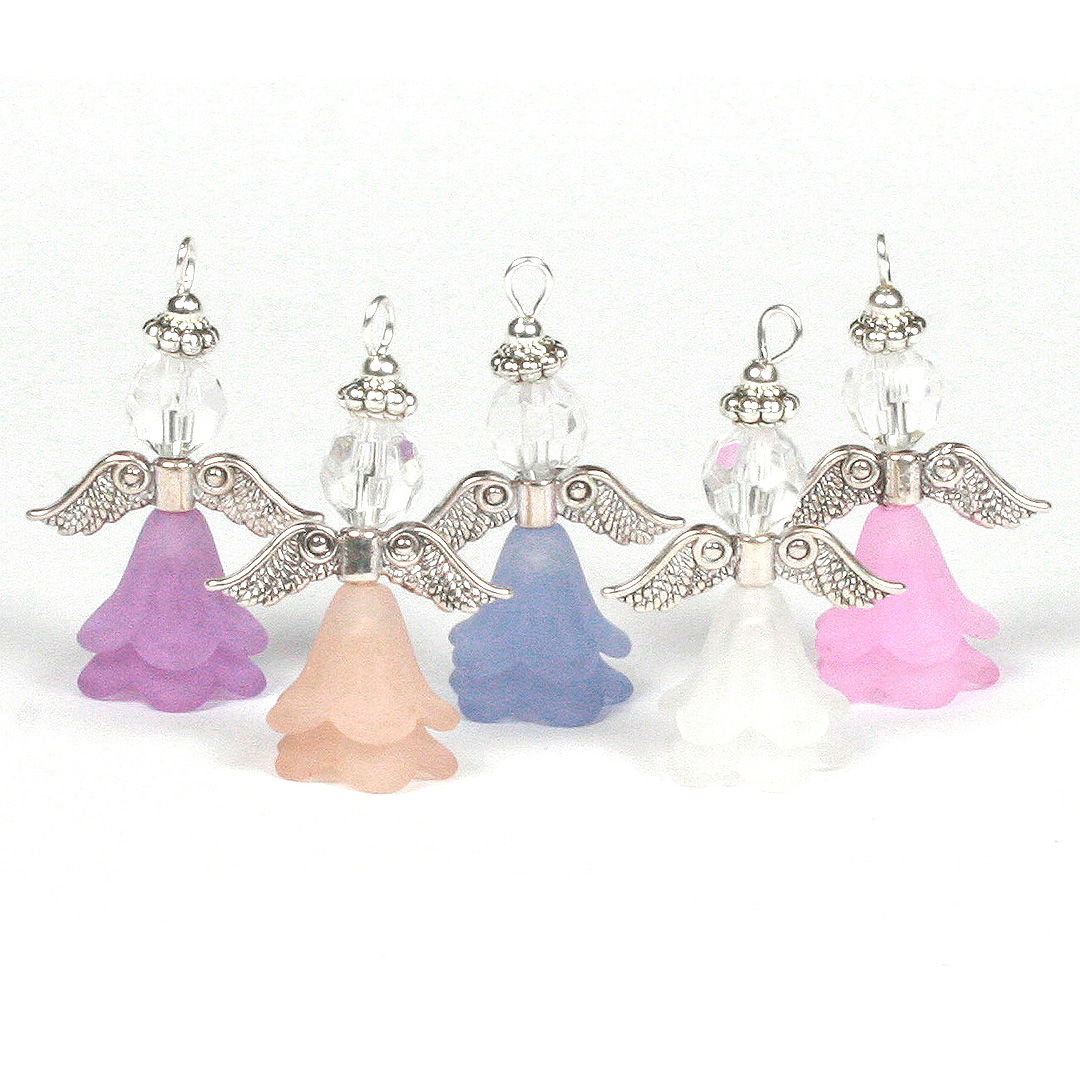 ---