The DiamonDuo 2-hole beads are one of the most popular multi-hole beads as they're easy to use and the diamond shapes fit beautifully together.  These Czech glass beads also come in lots of lovely colours.  Finally, their shape means they work well with lots of other beads.  We have some great DiamonDuo jewellery projects from BeadMaster USA to introduce you to these beads.
DiamonDuo Beads
These diamonduos measure 5x8mm and have 2 holes which enables them to be used to make some great jewellery.  Here are some great projects and ideas for easy bracelets and other diamonduo jewellery.
They come in 80 colours including the popular metallic shades including metallic mixes.  They're also available in pastel and chalk shades.  This great colour range means they are easy to mix and match with lots of other beads.

The latest shades are the prismatic colours.  These have great depth and light which will therefore add a sparkle and extra dimension to your diamonduo jewellery.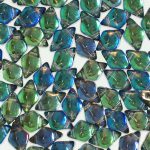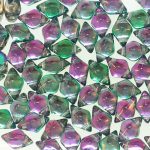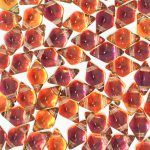 DiamonDuo Jewellery Projects and Design Ideas
Desert Blossom Bracelets
These strung bracelets are very easy to make but the ornate diamonduo fastening adds a lovely touch.  The Desert Blossom Bracelet instructions can be downloaded here
Resort Cuff
The Swarovski rose montees add an unusual touch to this easy design.  You can view the instructions for the Resort Cuff here.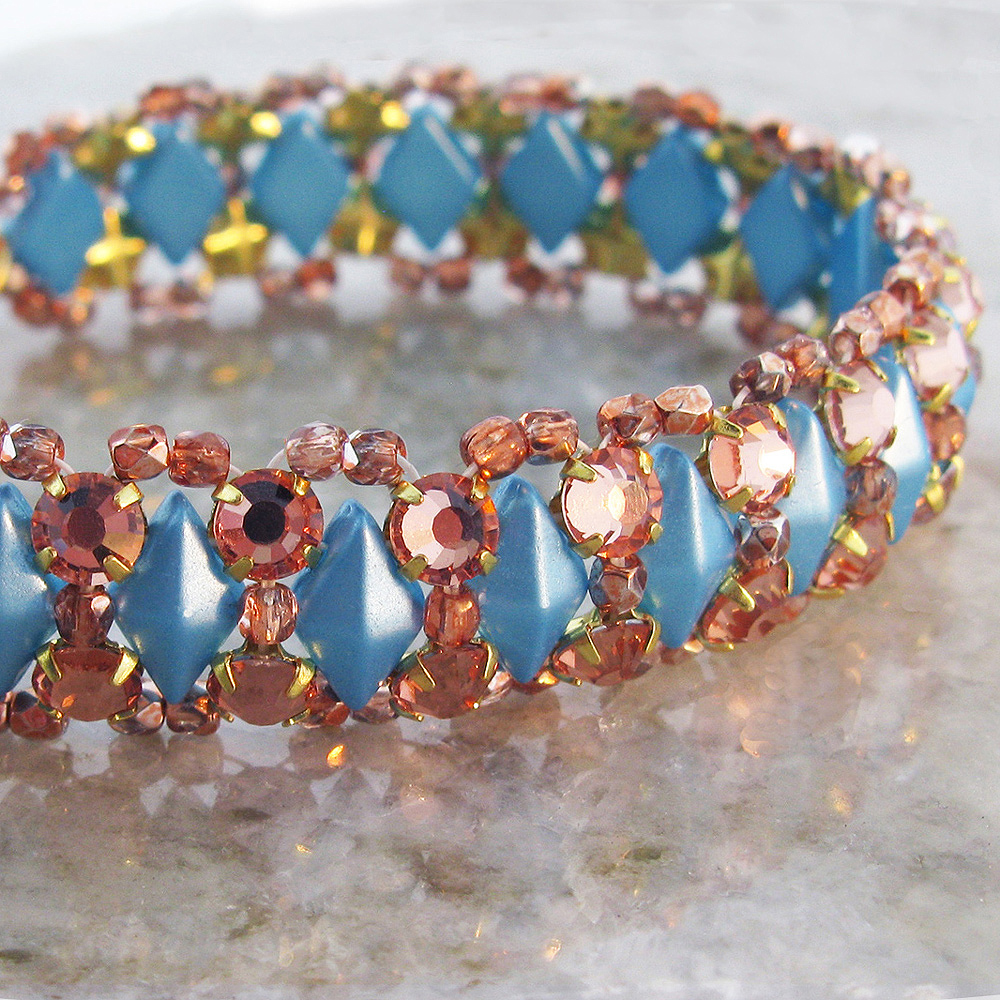 DiamonDuo and Pellet Bracelet and Earrings
The shape of the diamonduo beads mean that they work very well to make a star shape.  Here the diamonduo star is surrounded by 4x6mm pellet beads.  Just follow the diamoduo and pellet bracelet pattern and use the motif to make a matching pair of earrings.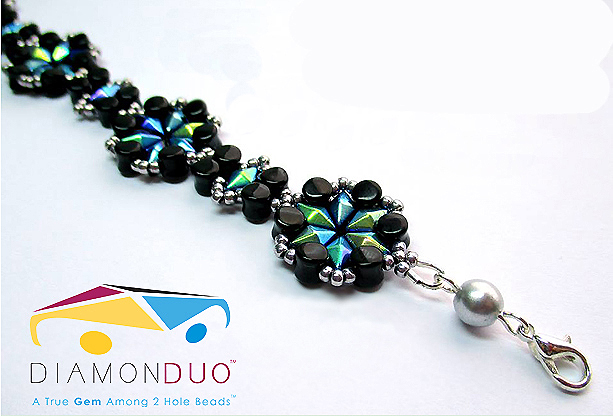 This design works very well in lots of other colours like the beautiful chalk vega diamonduo jewellery below.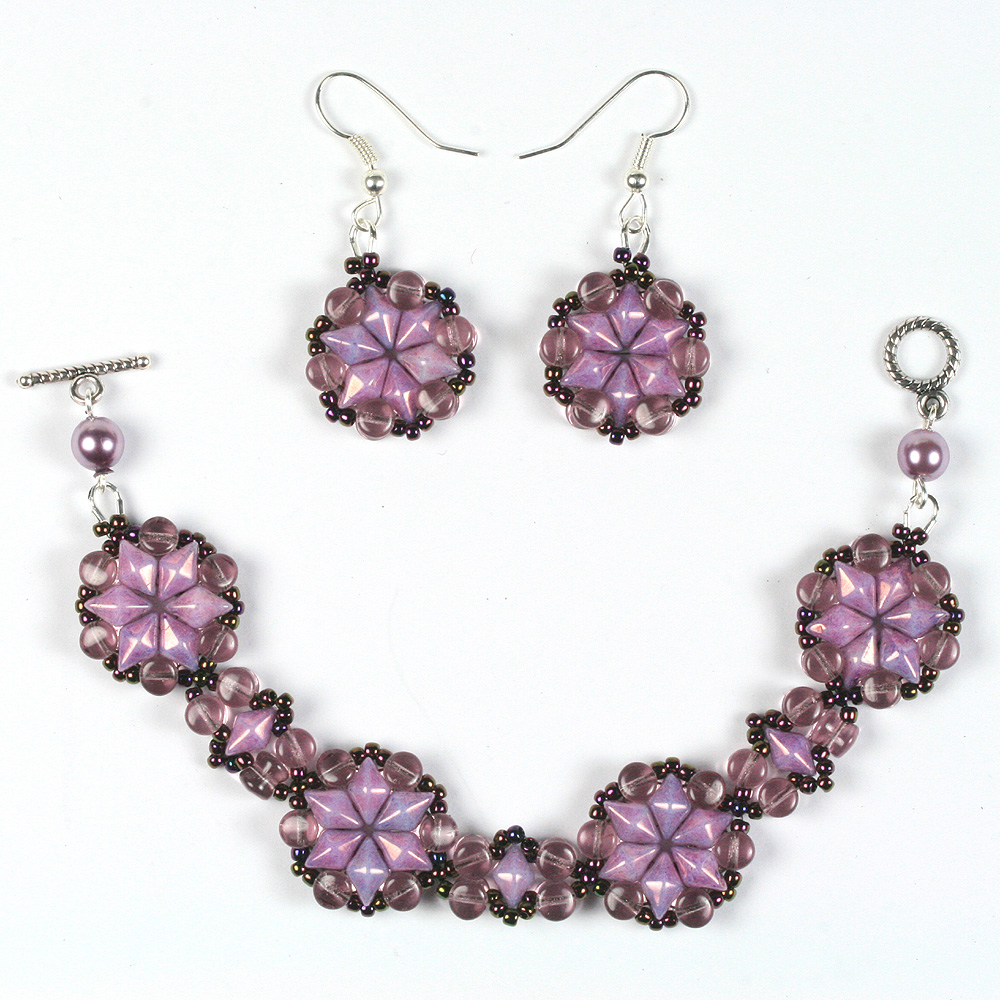 Crystal Cascade Bracelet
This is one of the most versatile patterns using the diamonduos to make a pretty star motif edged with seed beads.  Try making it using hot colours or the prismatic diamonduos for a different look.  View the Crystal Cascade Bracelet instructions here.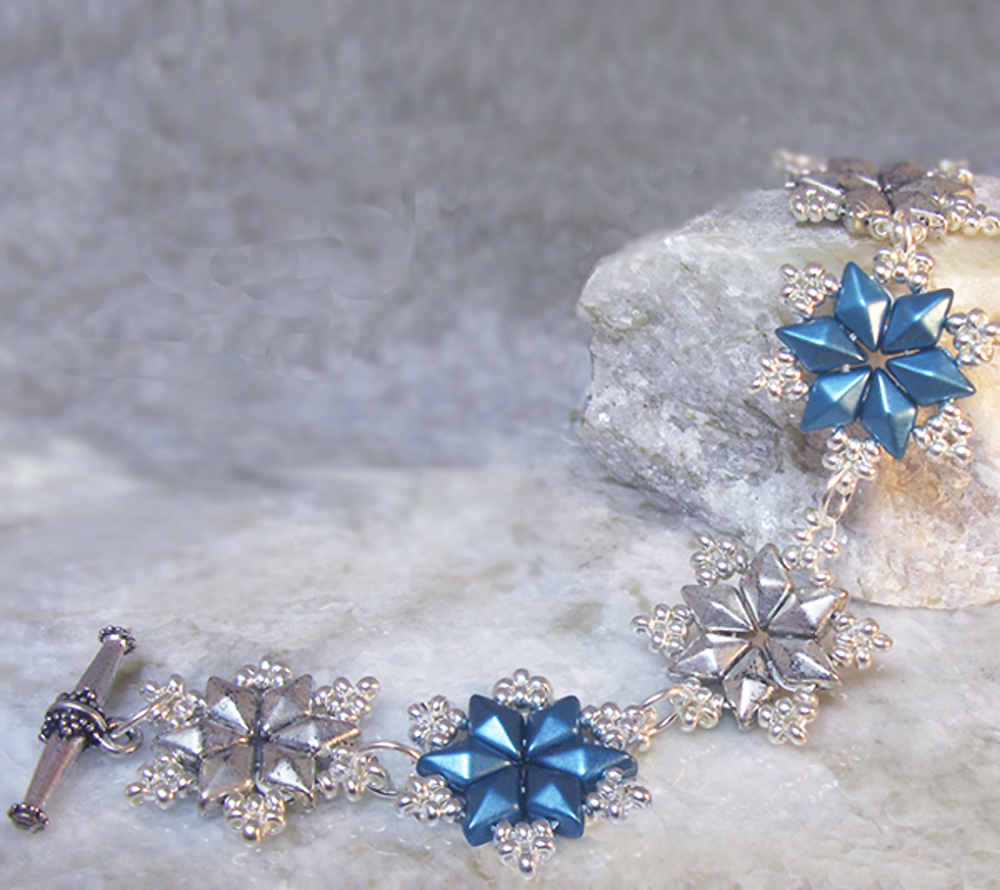 In the Rough Bracelet
The diamonduos also work well with other multi-hole beads such as the triangular diamonds.  View the In the Rough Bracelet instructions
djljala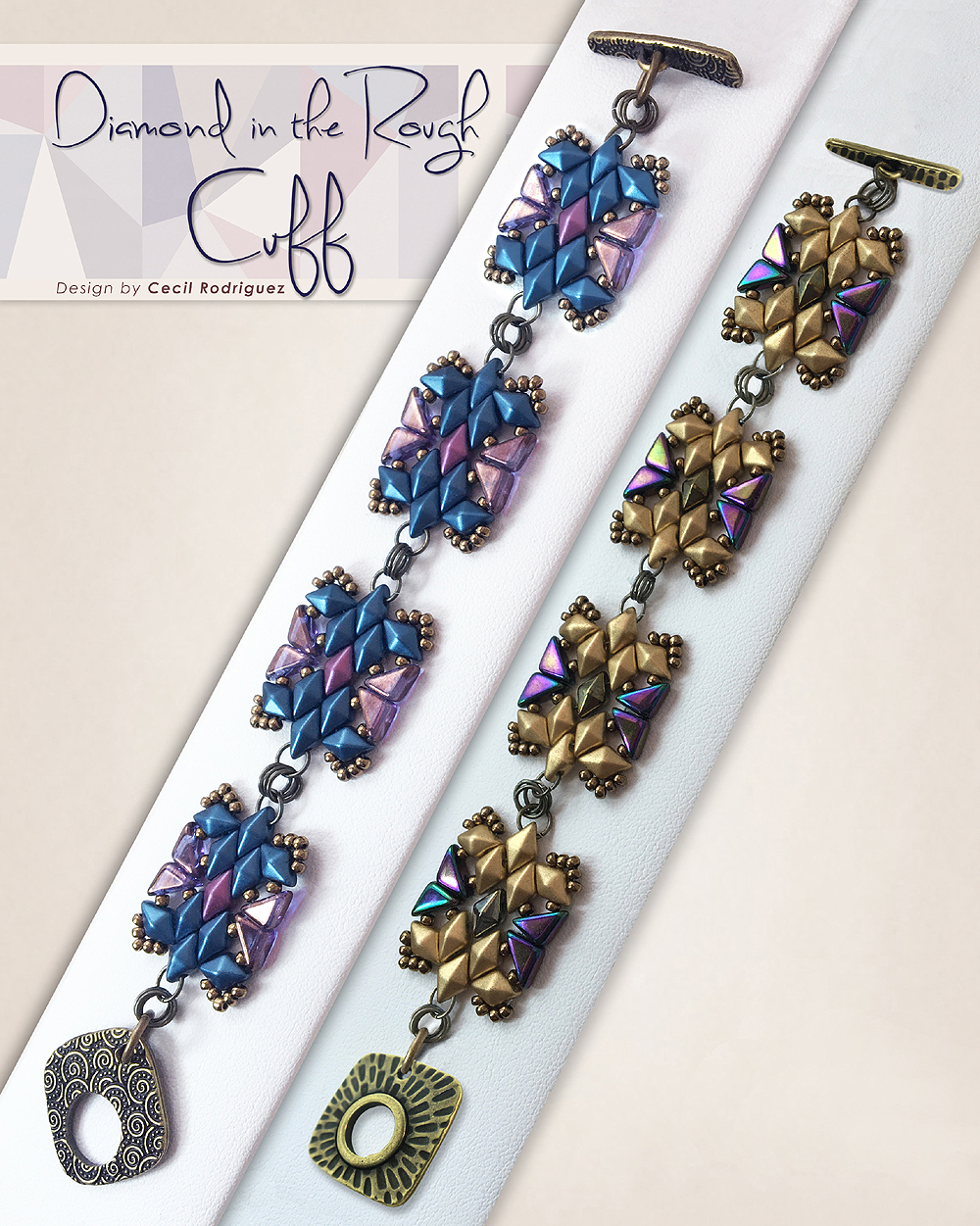 DiamonDuo and Tango Bracelet
Here is another idea using the tangos with the diamonduos.  You can download the diamonduo and tango bracelet instructions here.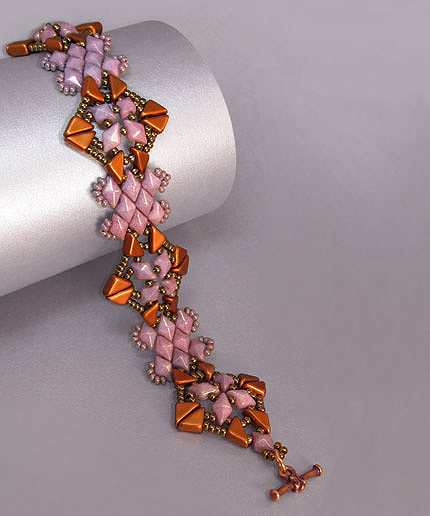 Diamonduo and Stud Bracelet
The DiamonDuos also work well with other multi-hole beads such as the studs below.  This idea can be adapted to work with other multi-hole beads.  You can download the diamonduo and stud bracelet pattern here.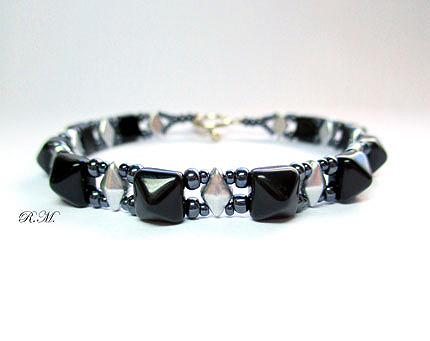 DiamonDuo Beaded Beads
Finally, if you love making beaded beads, you can do this with the diamonduos as the shape fit together so neatly.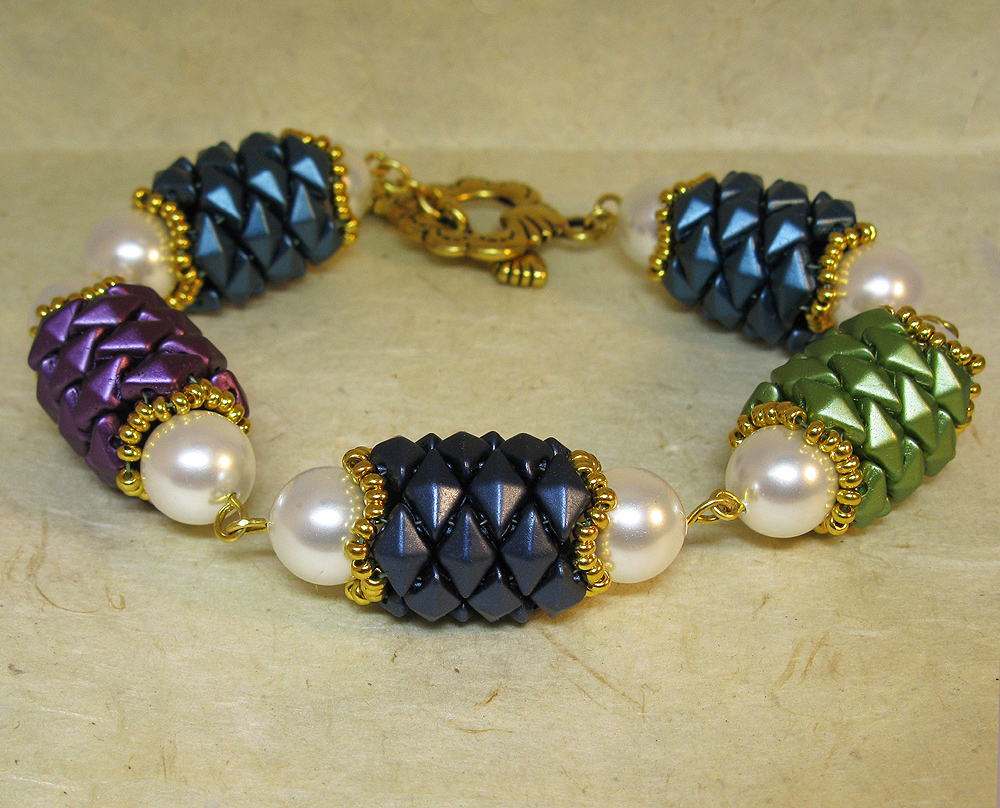 ---