The 14mm Cabochons par Puca are part of the Cabochons par Puca range, together with the 18mm and 25mm round cabochons and the oval Athos par Pucas.  We have five lovely free projects by Annick Puca, the French designer of Les Perles par Puca.  The designs include pendants, a bracelet, earrings and a ring.
14mm Cabochons par Puca
These lovely high quality Czech glass cabochons have a slightly domed top and a flat back.  While the cabochons can, of course, be used with other beads they work beautifully with Les Perles par Puca.
They come in many of the same colours that can be found in the other cabochons par Puca and also in Les Perles par Puca.  View the 14mm cabochons here 
Sally Ring
This pretty project will show you how to bezel the cabochon and then edge it with the Piros par Puca beads to make a pretty surround.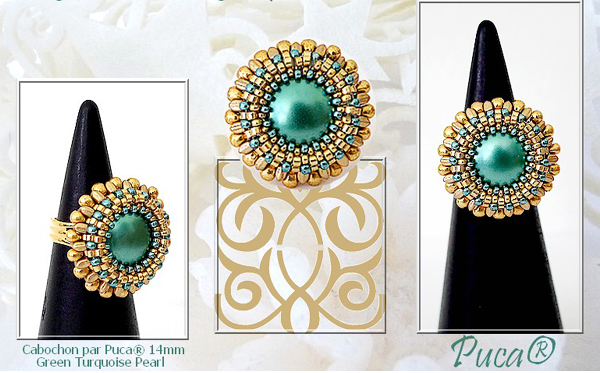 Takamata Pendant
This pendant is one of our most popular cabochon projects by Annick Puca and shows how well the 14mm cabochons par Puca work with the 18mm and 25mm cabochons.  The instructions will show you how to bezel round the cabochons using peyote stitch and then embellish it with small beads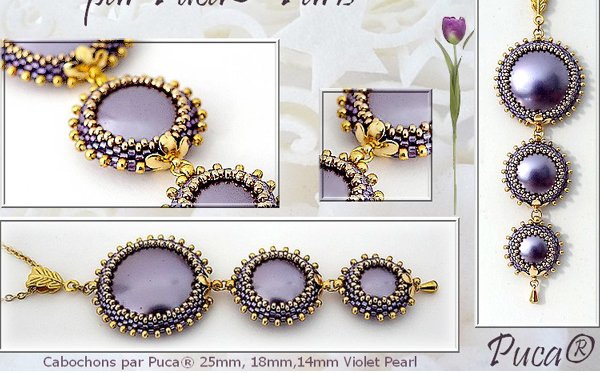 Ola Pendant
Paros and Kalos par Pucas are used to create a beautiful frame which is attached to a pretty 20mm filigree circle.  The cabochon is then simply glued in the centre of the filigree circle.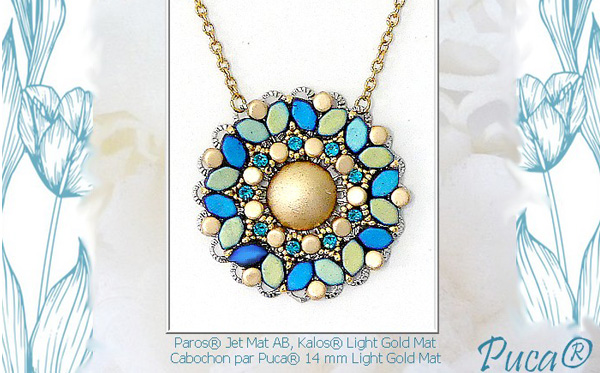 Tonka Bracelet
Here, the cabochon has a simple bezelled surround.  To Arcos and and an Amos par Puca bead are added on each side and chain added to create a delicate bracelet.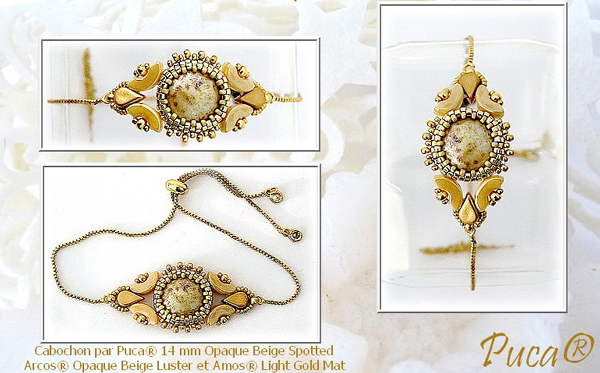 Moon Earrings
The cabochon is first bezelled.  Next, one half of a 20mm circle is embellished with Piros par Puca beads.  This is then attached to the bezelled cabochon.  The earring finding is then attached and, finally, an elegant drop added to create a striking pair of asymmetrical earrings.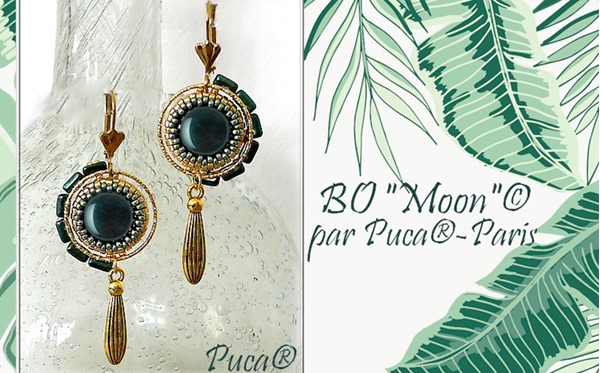 ---